Ishu is 14 years old. Every month during her period, she has to leave her family because it's believed she will bring bad luck.
She's forced to live alone in a remote, windowless mud hut without warm clothes, sanitary protection, or running water. "I'm scared to stay alone in the hut," Ishu said. "I'm scared of ghosts and snakes. When I was sleeping in the night, I felt scared some bad people would come and attack me."
In Western Nepal where Ishu lives, this practice is called chhaupadi. Although it's been illegal since 2005, it's still practised in many communities. In recent years at least two girls are known to have died as a result of the practice.
I felt scared some bad people would come and attack me."
Each month, Ishu has to use old clothes as rags, instead of sanitary pads, to soak up the blood. These can cause serious and painful infections. Ishu wishes she could stay with her mum during her period and sleep in her own bed: "I'd like these practices to stop." 
No girl should be banished because of her body. That's why ActionAid supports local women's groups raising awareness about the negative impacts of chhaupadi and its illegal status. We're working with local communities in Nepal, and across the world, to give girls access to clean, affordable sanitary pads. 
A regular gift from you could help ActionAid make sure that girls like Ishu don't face discrimination because of their periods. 
Your donation can help tackle period poverty
Please give a regular gift to help end period poverty
Tackling period poverty for girls everywhere
Nepal isn't the only country where menstruation means girls miss out. One in 10 girls in Africa aren't able go to school when they have their period because they can't access sanitary products. They worry their period will stain their uniform or they'll be teased by other children. And without a safe, private toilet to use at school, girls feel insecure and uncomfortable going to the toilet during menstruation.
When girls miss several days of school each month, they fall behind with their studies and are more likely to drop out of school completely. They then lack the skills and knowledge to get a good job and the confidence to defend their rights. This puts them at greater risk of experiencing sexual violence, exploitation and abuse. 
Our UK Aid Match Not This Girl appeal is supporting local women's groups in Kenya. These groups are tackling period poverty in their communities and helping girls get access to sanitary towels in school.
Menstruation shouldn't hold girls back. Period. 
Millions of girls across the world don't have access to clean and safe sanitary protection. But sanitary products aren't a luxury – they're essential.
Girls who can't afford sanitary pads are often forced to miss school during their period. They're more likely to drop out completely and are prevented from achieving their potential. 
The taboos around menstruation can make starting your period frightening and confusing. Without reproductive education, girls are more likely to experience shame and stigma.
In humanitarian disasters, women and girls are forced to use improvised methods of sanitary protection – such as torn pieces of clothing and rags - that can cause serious and painful infections.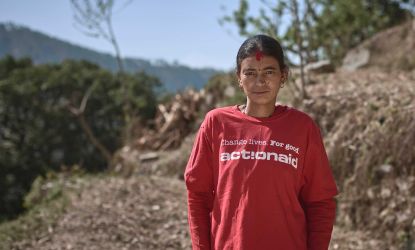 How ActionAid is helping girls around the world manage their periods with dignity
ActionAid trains women and girls to make safe, reusable sanitary pads so they always have access to clean and affordable sanitary products. 
In our girls' clubs and safe spaces in schools, we provide information about periods, sex and pregnancy, so girls are better informed about their bodies. 
During humanitarian emergencies, we provide hygiene kits containing sanitary towels, soap and clean underwear, to help women and girls manage their periods safely. 
We're working with local communities to end the practice of chhaupadi for good. 
Gauri, 26 (pictured), is campaigning to end chhaupadi in her community in Western Nepal. When she was younger, Gauri was banished every month during her period. She had to sleep below a goat shed and when the animals urinated it would seep through the floor and drip on her. This experience motivated her to join an ActionAid-supported women's group, where she learnt about her rights and her reproductive health. Gauri no longer practises chaaupadi and is campaigning in her local community to bring the practice to an end. 
Top image: Ishu is 14 years old. Every month during her period, she has to leave her family because it's believed she will bring bad luck. Poulomi Basu/ActionAid
Page updated 30 November 2021