Top three fundraising tips
1

Set up your JustGiving page

Set up a JustGiving page to support the appeal. From completing a 10k, to braving a head shave, there are lots of creative ways to fundraise during this time.

2

Take on a challenge

Challenge your family or friends to a squat, lunge, or push up challenge. Each person donates £5 to your JustGiving page, and whoever manages to do the most repititions wins.

3

Hold your own event

From hosting a quiz to walking the equivalent distance of the Everest Base Camp Trek (130km), there are lots of fundraising ideas to choose from. Check out our A-Z of ideas page!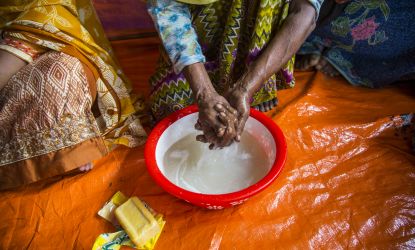 ActionAid's response so far
As of May 2021, ActionAid has responded to the Covid-19 pandemic in 40 countries across Africa, Asia, the Americas, Europe and the Middle East.
We have reached over 21 million people with our life-saving support: delivering food supplies, distributing essentials like soap and water, funding women's shelters and combating the spread of misinformation with awareness-raising projects like local radio broadcasts.    
In India alone, we have reached over 6.8 million people with food support, sanitation and protection against gender-based violence.
In Nepal, we have reached more than 427,000 people, delivering thousands of Covid-19 prevention kits, handwashing supplies and PPE items, alongside food packages and menstrual products. 
Together, we're making a huge difference to the lives of vulnerable people, but there's so much more to do. If we act now, many more lives can be saved.
Fundraise for our coronavirus response
Top image: Talat is part of ActionAid India's Covid-19 response. She has been using her auto-rickshaw to deliver food packages to vulnerable members of society in Bhopal, India. Credit: Samyamoy Debnath/ActionAid
Page updated 24 August 2021