How education for girls helps break the cycle of poverty
There is no dispute about the benefits of education, especially for girls.
Better-educated women tend to earn more, have better jobs, and invest their earnings into their families. Every additional year of school a woman attends increases her wages by an average of 12 percent.
Increasing girls' education reduces infant and maternal mortality. Educated mothers have fewer pregnancies, are less likely to give birth as teenagers, and are better able to access the maternal healthcare they need.
Increasing girls' education reduces child marriage. Across 18 of the 20 countries with the highest prevalence of child marriage, girls with no education are up to six times more likely to marry as children than girls with a secondary education.
Education helps give women the skills they need to take on leadership roles, including political positions. In those roles, they are much more likely to advocate for policies that benefit family and community life, like improved education and social services.4
How ActionAid Girls' Clubs help girls stay in school
ActionAid runs Girls' Clubs in schools, and in community spaces for girls not currently in school. These clubs offer a safe space for girls to learn about their rights, discuss issues and share experiences.
In clubs girls also build their leadership skills so they can speak out in school, at home and in the community with confidence.
Supported by ActionAid, girls are leading their own positive change and challenging the harmful practices that impact girls, like child marriage and female genital mutilation (FGM).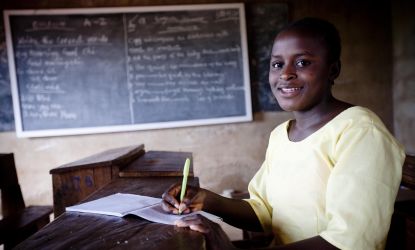 Girls' rights to an education in Nigeria
"The more girls we gather together, the more power we have," declares Simon Abigail, 16-year-old secretary of Manchok Girls' Club, set up by ActionAid.
"I encourage girls to stay in school for longer. I want to tell politicians in Nigeria how important it is to educate girls, and explain why girls need more help because often their parents will pay the boys' school fees and not the girls'."
"There is one girl at school who gave birth to a baby girl and dropped out," Simon recalls. "I went to speak to her family and now she's returned to school and joined the Girls' Club. When I think of her I am hopeful – but we need to keep campaigning."
How education helps end violence against girls
Many girls suffer discrimination at school through violence and prejudice. This results in girls dropping out of school, which perpetuates gender inequality. 
We work with local communities to develop specific solutions to protect girls against violence. In the Upper West Region of Ghana, many teenage girls are being violently abducted on their way to school to be forced into child marriage. ActionAid reports more than 50 girls a year are being taken.
Girls are most at risk of attack during the rainy season, when they must walk through fields of long grass to get to school, where attackers can lie in wait. 
One initiative ActionAid uses to prevent this happening, with great success, is giving bicycles to girls at risk of forced marriage. The bikes cut down the girls' long and dangerous route to school, meaning that they are less at risk of abduction, and they don't have to leave so early in the morning when it is still dark.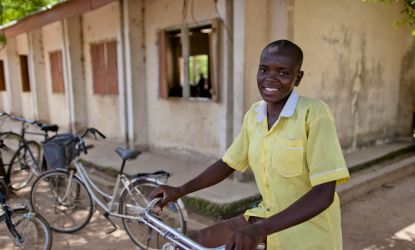 Helping girls get to school safely 
"My junior high school is a two-hour walk away from Ulkpong, where I live. Without a bicycle I would not be able to get to my lessons," Carolina says.
Like other girls at risk, Carolina was given an ActionAid bike so that she can get to school quickly and safely. 
"Now I go to school every day and I'm doing well in class. I am determined to stay in school and go to training college so that I can become a teacher," says Carolina with pride.
"Thank you ActionAid for my bicycle!"
Why disasters stop children from attending school
For many children, one of the impacts of a disaster is that they are no longer able to attend school, meaning that they miss out on a vital part of their education. One in four of world's out-of-school children live in crises-affected countries.5
In an emergency, girls especially are at risk of being forced to drop out of school, to help support their families or to marry. 
ActionAid helps children to continue to learn in all situations. In Bangladesh, our shelters ensure schools continue during the monsoon, which brings devastating floods to low-lying areas.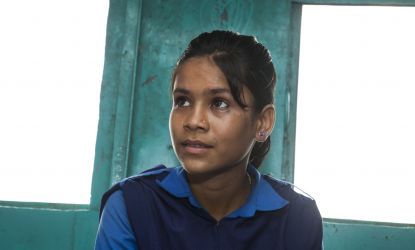 The importance of keeping girls in school during crises
Subarna, 13, usually takes a boat to school from her home in the village of Faridpur, Bangladesh. She wants to be a doctor. But her dream is at risk of being thwarted by floods. At least twice a year, her route to school becomes impassable. 
"When the storm comes I can't go to school," she said. "I can't cross the big river in the small boat."
But now, during floods Subarna can carry on studying at a child-friendly space built near her village by ActionAid. She and her friends can safely reach the tin-and-timber hall where a local tutor helps the girls to continue with their studies.
"If this child space wasn't here then we would face a lot of problems," said Subarna. "We wouldn't be able to study. I'd be sat at home unable to do anything."
How you can help to sponsor a girl's education 
Sponsoring a child helps them get the high-quality education that is their right. It pays for schoolbooks, fees, equipment and making sure they can get to school safely. It can even pay for a whole new school building in the village or town where the sponsored child lives.
By investing in education, children are given the skills and knowledge they need to build a better life for themselves.
Find out more about child sponsorship and how it works.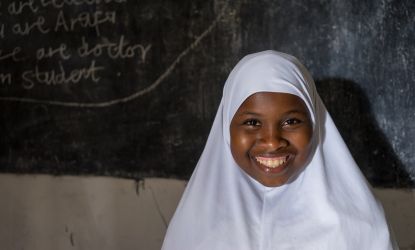 Helping to educate girls in Zanzibar
Zeinab, 10, lives in Zanzibar. Her mum, Maryam, describes the impact that sponsorship has had on her life.
"Before sponsorship Zeinab was bit reserved. She wasn't really that energetic, but after she joined the programme, she became so active – interacting with other children, playing and is so cheerful.
Through sponsorship funding a school, a nursery and a hospital were constructed for us. As a community our resources were limited, but now children have a place where they can go." 
Zeinab is benefiting from her education at the school, and has big plans for her future. "I love Swahili as a subject because it's my language. When I grow up I would like to be a teacher so that I can educate students."
Footnotes
1https://www.malala.org/brookings-report/the-worlds-best-investment-girls-education
2https://news.un.org/en/story/2019/09/1046272
4https://www.unicef.org/education/girls-education
4https://www.malala.org/brookings-report/the-worlds-best-investment-girls-education
5https://www.unicef.org/education/bege_70640.html
Top image: Best friends Abigail (right) and Purity in class at an ActionAid-supported school in West Pokot, Kenya. Ashley Hamer /ActionAid
Page updated 31 January 2023