For just 65p a day, your sponsorship with ActionAid UK will help a child in one of the poorest countries in the world get access to nutritious food, clean water, health care and education. You could help make sure a girl like Saf'a, from the occupied Palestinian territory, grows up safe and happy.
All children have hopes and dreams, but poverty and injustice can hold them back. They might face violence, miss out on an education, or be prevented from claiming their rights. But it doesn't have to be this way.
By sponsoring a child, you'll help us work with local communities to overcome these injustices and unlock a child's potential. Your support will mean that children in some of the poorest parts of the world can look forward to a brighter future. So the hopes and dreams of girls like Saf'a might one day become a reality.

Sponsor a child in Nepal
Eight-year-old Radha lives in south-eastern Nepal – she has one sister. In the daytime she goes to school where her favourite lesson is science and after school her favourite game is Skipping Rope.
Your sponsorship will support not just Radha but her whole community. It will help to fund whatever they need the most – whether it's training teachers, installing water pumps or providing psychosocial support to children affected by the earthquake in 2015.
What to expect when you sponsor a child
As soon as you sign up to be a sponsor, we'll send you a welcome pack with a photo of the child you're sponsoring and their story so far. And that's just the start of the journey you'll go on together.
You'll get two handwritten messages a year from your child telling you about them and their life – they might be letters, drawings, or postcards – plus detailed updates about how they're getting on from our staff in their country.
You can write back to your sponsored child. Over time you'll get a new photo at special milestones so you can see them grow and thrive.
Where your sponsorship money goes
80% of your sponsorship money goes overseas to help your child and their community. (20% is spent in the UK on public education and finding more sponsors). And in the country where your child lives, ActionAid works with their community to decide what the money should be spent on.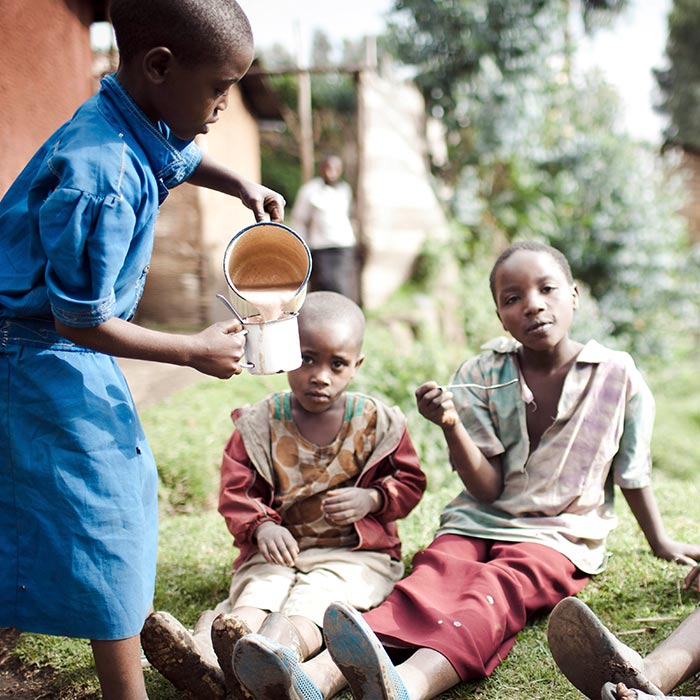 Food
Clean water
Healthcare
Education
You can be sure we'll achieve as much as possible with every pound you give us. And you'll be able to see the difference you're making through regular updates we'll send on how your money's being spent.
"It's amazing to see what a difference such a small amount of money a month can make to a whole community."

Richard Jordan, ActionAid child sponsor
How child sponsorship helped Purna fulfil her dream
Purna is a midwife and has two daughters. Here she's holding up a photo of herself aged 12 – when she was sponsored through ActionAid and her life changed forever.
Growing up in rural Nepal, Purna's family were very poor. Her mother couldn't afford to send her to school. But then a sponsor stepped in, and that money paid for school clothes, paper and pencils.
So Purna got to go to school, finish her education and fulfil her dream of becoming a nurse, and then a midwife. Now she practises in a health clinic.
She's helped to deliver hundreds of babies, saved many lives and provided medicine and care to many more mothers and children. She also has two daughters of her own. One is a nurse and the other is studying for her MD.
"Being without education is like being blind. [But my sponsor] opened my eyes. Because of them I was also able to open the eyes of my children. Education is very important."