Alesha Dixon: "I met girls at risk of child marriage"
27 July 2017
Long-term ActionAid supporter and Britain's Got Talent judge Alesha Dixon recently joined us in Ghana to meet young girls at risk of child marriage. Watch this short film of her trip and read her personal account below. 
Last week I travelled with ActionAid for the first time, to meet young girls at risk of child marriage in Ghana and help draw attention to this issue.  During my time there I heard devastating stories of girls who had been kidnapped, and told to prepare to be wives.
I spoke with girls in the Upper West Region who have been abducted for child marriage and I heard their stories of survival.
Taken for child marriage on Christmas day
I met Cynthia, 17, who was tricked by two men who exploited her vulnerability and offered her a lift on Christmas day. Instead, she was kidnapped, and put in a room for several days and told to prepare for marriage.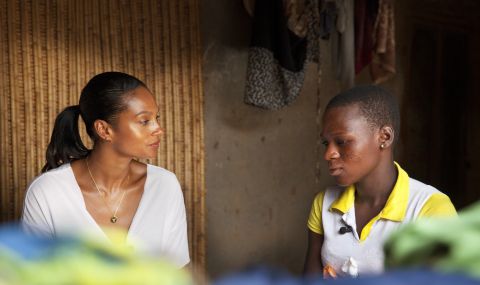 When Cynthia was telling me her story, I could not even begin to imagine how terrified and alone she must have felt.
Cynthia was just 15 years old when this horrific event happened to her. In a heartbeat, these men took away all of her rights as a woman, as a girl. One moment she was happy at school and then the next they just took it away from her. 
"When a girl is taken, they know how to get her back"
Fortunately, Cynthia's father received help from Mary Lily, an ActionAid teacher and COMBAT squad volunteer who works in their village. COMBAT is a community-based anti-violence team made up of local women. When a girl is taken, they know how to get her back. Mary Lily visited the men and threatened to involve the police. After this intervention, the men freed Cynthia and she is now back at school.

Unfortunately, not all the girls are able to avoid this fate. Many girls in this area as young as 14 are forced into early marriage, their childhood snatched away as they have no choice but to leave school, and care for their husbands and children.
Afraid, overwhelmed and alone
I felt for all of the women I met, but eighteen-year-old Felicia's story, who was promised a better life by a man who then left her pregnant and alone, stayed with me. I just kept looking at Felicia's little two-month old baby and thinking of my own daughter.
I was 34-years-old when I gave birth. It was my choice, I was happy, it was one of the most amazing times of my life. Here I am with this teenager, who is living with so little, probably afraid, overwhelmed and alone. Felicia didn't even have a mattress to sleep on – which broke my heart.
I just felt this sense of such injustice, that with all the wealth and money in the world this mother and child have to live in such poverty but yet they have to get on, because they're survivors.
A better and brighter future
I was able to see for myself the work ActionAid is doing to help young girls like Cynthia escape from child marriage and girls like Felicia by encouraging them to get back to school and regain hope for a better and brighter future for themselves and their children.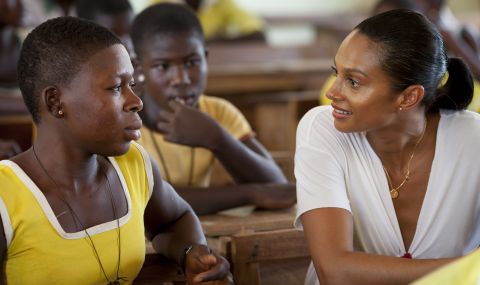 Even if you grow up where there's poverty, you should still be able to feel that there is hope, that you have a choice and that if you go to school and work really hard, that one day you can become a nurse or a teacher.
That's what the charity does - it rescues girls from child marriage and makes sure that they can claim their rights, return to school and are able to choose a future they deserve.

Please donate now to protect more young girls and help change lives for good.Donate to help end child marriage
Photos: Abbie Trayler Smith/ActionAid
Read next
30 November 2018

30 October 2018