You can transform a child's life for good when you become a sponsor with ActionAid. 
ActionAid believes that all children should have an equal chance to thrive. Your sponsorship will make a huge difference to a girl or boy in need – ensuring they have enough to eat, an education and hope for the future.
As their only sponsor, you'll have a special relationship with your sponsored child. You'll receive photos, handwritten messages and regular updates from their community. 
You can choose where you sponsor a child, as well as their age and gender - or you can leave it to our team to decide; they know which communities are in greatest need. It only takes a few minutes to become a child sponsor, but you could change a child's life forever.
What will my child sponsorship pay for?
Food

Nutritious meals for children and seeds and livestock for families to grow their own food

Education

Schoolbooks, fees, equipment and even a whole new school building in the sponsored child's community

Clean water

Building wells, purifying water sources, and better sanitation facilities

Healthcare

Medical and dental clinics, basic medical supplies and health education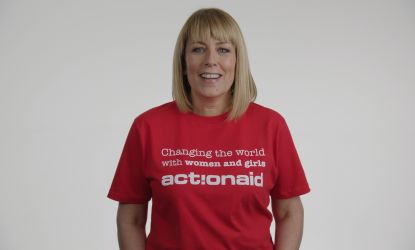 Actress Fay Ripley on sponsoring a child
It's been 12 years and I continue to send letters to the two children we sponsor.

For the price of a takeaway coffee each week, we have a real connection to another part of the world and are making a difference to people's lives.

I am grateful to ActionAid for the genuinely progressive work they are doing for people who need our help."
How is my sponsorship money spent?
80% of the donations we receive through child sponsorship goes overseas (whilst 20% is spent in the UK on raising awareness and finding more supporters).
Of the 80% overseas gift, 70% goes directly to your sponsored child's community or, if there is an exceptional need such as a life-threatening emergency, another community within their country.
The remaining 30% is used to fund other vital work in developing countries, and running child sponsorship so that you can receive messages from your sponsored child, and hear how your gift is changing lives.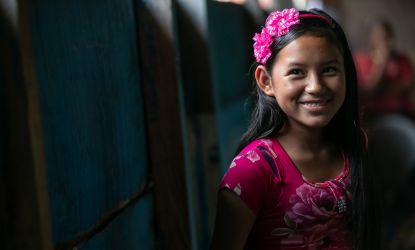 What ActionAid does
Around the world, women and children are affected the most by poverty. From the moment they are born, girls especially face inequalities and injustice in almost every aspect of their lives.
ActionAid puts women and children at the centre of our work across 45 countries. We make sure girls go to and stay in school, we work with communities to end gender-based violence, and we train women in the skills they need to earn a living.
We also help women and communities prepare for and recover from disasters, at a time when they can be at their most vulnerable. We demand action at local, national and international level. We don't walk away until we've achieved lasting change.
Top image: Krishla, from Nepal, received support from ActionAid following the Nepal earthquake of 2015. Karin Schermbrucker/ActionAid
Page updated 18 January 2022