How it works
1

Set up your JustGiving page

Create an online collection via JustGiving. Your page will be automatically populated with information about the appeal, so your friends and family will know how their donation will make a difference.

2

Spread the word

Share the link to your page with friends, family and work colleagues and ask if they're able to make a donation to the emergency appeal. 

3

Choose your own challenge

If a collection is not for you, could you challenge yourself to a sponsored run, walk or cycle? Organise a virtual quiz and donate the entry fee? Or host a festive dinner party? Just let us know how you'll be fundraising and we'll support you along the way.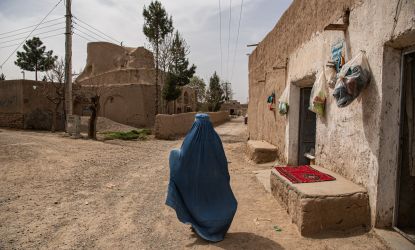 DEC Afghanistan Crisis Appeal: ActionAid's response
ActionAid along with other DEC member agencies are on the ground, trying to reach the most vulnerable. 
We are providing emergency support to communities in four provinces across Afghanistan including Herat, Kabul, Ghor and Balkh - distributing cash support and hygiene kits for women and girls, to around 1,000 families.
We aim to scale up our response in the coming weeks, and your fundraising could help us reach more than 10,000 families with food support and essential items to survive Afghanistan's harsh winter, including blankets and heating equipment.
Where your money goes
90% of your donation will go directly to the DEC Afghanistan Crisis Appeal 
10% of your donation will be retained for ActionAid's Emergency Action Fund which will only be used for ensuring we are prepared and able to respond quickly and more effectively to future emergencies and crises.
If the total amount raised for this appeal exceeds the funds needed for the response, ActionAid will transfer the remaining balance to the Emergency Action Fund. All Gift Aid claimed on donations will fund ActionAid's work across the world, wherever the need is greatest.
Top photo:Habib* is screened for malnutrition at a health clinic supported by DEC charity International Rescue Committee in Afghanistan. His mother brought him in not knowing if there would be any help available for his treatment as many health clinics have run out of medicines. In a country where eight million people are on the brink of famine and a million children under the age of five are at risk of dying over the next three months, children like Habib urgently need help to stay alive. *Name changed Photo:Kellie Ryan/International Rescue Committee UK
Page updated 15 December 2021