What is drought?
A drought is defined as extended period - a season, a year, or several years - of unusually dry weather and low precipitation for a region, which often results in a shortage of water.2
It can cause crops to fail, drinking water to run out and livestock to die, which may lead to food insecurity or, in the worst case, famine.
It can also have wide-ranging indirect consequences, including higher risks of fire, higher migration rates and conflict.3
What causes drought?
Drought occurs naturally in almost all regions of the world.
It is caused by weather patterns, as well as weather events like El Niño in the Pacific ocean.4
Although it occurs naturally, climate change is making drought worse in many parts of the world, increasing its frequency, severity and duration.5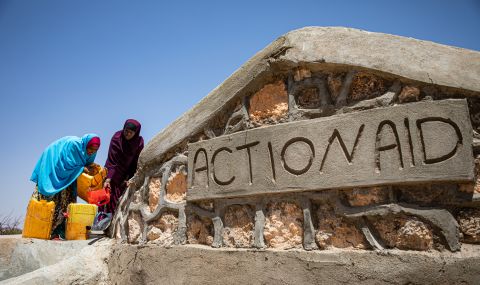 Why drought can devastate communities
Drought is difficult to forecast - and it cannot be stopped. When it is not managed effectively it can have huge socio-economic consequences, including mass migration, famine and death, as well as long-term degredation of natural resources.6
But the severity of drought depends on a number of other issues present in a region, including:
Demographic pressure on the environment
Food insecurity
Economic systems strictly dependent on agriculture
Poor infrastructure e.g. irrigation and water supply and sanitation systems
Poor health status of the population before the disaster
Time of the year, with the most critical period being before the harvest
Absence of warning systems
Population displacement
Other concurrent situations: economic crisis, political instability, armed conflict.7
Why are women and girls hardest hit by drought?
As in all emergencies, women and girls are nearly always hardest hit by drought. They are often responsible for care-giving in their families, which means walking increasingly long distances for water, putting them at greater risk of violence and sexual assault. 
Owing to cultural customs, women often eat least, and last, in their families, increasing their risk of malnutrition.
Within the home, women can also often face aggression and domestic violence as the burden to find food and water increases.
Meanwhile girls are usually the first to be taken out of school in order to help support the family.
They may even be forced into child marriage in order to ease the burden on their family.
ActionAid's policy manager in Kenya, Ruth Masime, says:
As a result of the drought women and girls face a triple burden in some cases: to survive, care for their families and evade sexual violence in the process. Urgent action is needed to avert severe hunger, sexual violence and community breakdown."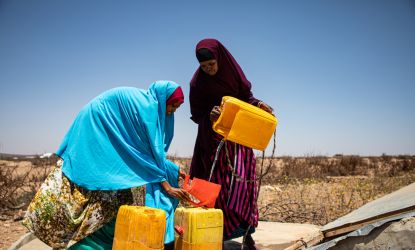 Drought affecting livelihoods
Amina, 40, is a mother and a farmer in Somaliland.
Lack of rain and rising temperatures this year have meant that Amina's livestock no longer has much pasture to graze on. In addition to selling milk from her livestock, Amina is also dependent on her crops, and without water, she has lost their entire livelihood.
She says: "I have seen severe droughts for the last few years, [but] in my view, this is the worst drought.

There are many people who can't cook tonight and many others who can't get water because water sources are far from them. So water and food are the most needed elements."
ActionAid is helping people like Amina in Somaliland with access to water and helping them rebuild their livelihoods. Help us support more people in need in East Africa.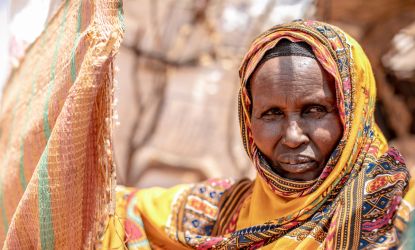 Drought in Somaliland: Dahabo's story
Like tens of thousands of others in Somaliland, Dahabo has been forced to flee her home due to the catastrophic drought.
Before the drought, she'd lived a comfortable life as a pastoralist.
She owned 100 camels and sold milk and meat to make a living. 
She was forced to make a dangerous journey in order to find a place to stay, ending up in a temporary camp for displaced people. 
There, she and her cousin Safia and relied on the generosity of strangers, before receiving help and support from ActionAid.
ActionAid is delivering life-saving supplies in displacement camps in Somaliland, and supporting vulnerable women and girls who are at increased risk of sexual violence and abuse. 
ActionAid's approach to drought
In high-risk countries around the world, ActionAid works with communities to build their long-term resilience to drought, including by:
Training people to develop more climate-resilient agricultural techniques
Supporting the building of sustainable water sources
Helping people, especially women, to develop alternative income sources.
In a drought emergency, ActionAid and our local partners work to save lives in affected communities, putting women and girls at the heart of our response, including by: 
Distributing food, water and water purification tablets
Distributing essentials kit, including items tailored to the needs of the community
Ensuring women and girls can safely access supplies
Supporting women and girls at risk of sexual violence.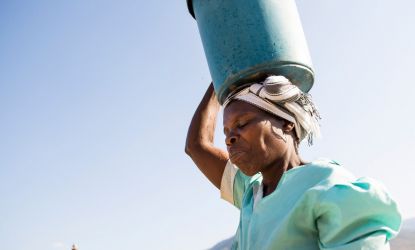 Drought in Zimbabwe: Alice's story
After a devastating drought in Zimbabwe, Alice was struggling to survive and provide her two children with enough food. 
The lack of water in her region was causing a spike in the number of waterborne diseases, as people were forced to drink dirty water from a nearby river.
But ActionAid supported Alice's community by building a borehole in the community.
Not only has this reduced cases of diseases like typhoid, but it also means Alice doesn't have to walk long distances for water.
This means less of a chance of being exposed to violence or harassment.
ActionAid works to develop long-term, sustainable solutions in communities like Alice's, so families can become more resilient to the changing climate. 
Footnotes
1https://www.unccd.int/issues/land-and-drought
2http://www.fao.org/3/aq191e/aq191e.pdf
3http://www.fao.org/3/aq191e/aq191e.pdf
4http://www.fao.org/el-nino/en/
5http://www.fao.org/land-water/water/drought/en/
6http://www.fao.org/land-water/water/drought/en/
7https://www.who.int/hac/techguidance/ems/drought/en/
Ceel-Dheere in Somaliland is experiencing its worst drought crisis in a decade. Millions are being forced from their homes in search of food and water. Daniel Jukes/ActionAid  
Page updated 14 February 2023