ActionAid encourages and fosters a special relationship between child sponsors and sponsored children.
As part of the commitment to that relationship, many sponsors like to have the opportunity to send gifts to their sponsored children around the world.
For this reason, we have created the Gift Fund to make gift-giving easy, cost-efficient and fair.
This fund allows child sponsors to donate towards meaningful gifts, not just for their sponsored child, but also for the whole community that their sponsored child is part of.
Find out more about the ActionAid Gift Fund and how as a child sponsor, you can take part.
What is the Gift Fund?
Small donations from existing child sponsors are pooled together to create the Gift Fund.  The Gift Fund is to support all the children in each of the communities around the world where we work.
The sponsored children then decide on how best to spend the donations. They usually ask for sporting equipment, books, school bags and toys.
ActionAid sources these gifts as locally and sustainably as possible and distributes the gifts to all the children in the chosen school or community.
How is the coronavirus affecting the Gift Fund for sponsored children?
As the impact of the Covid-19 pandemic continues to be felt around the world, we're doing everything we can to ensure our child sponsorship work is uninterrupted.
You can still donate to the Gift Fund for your sponsored child. There may, however, be delays in sourcing and distributing gifts, as schools and clubs in communities where sponsored children live may be closed while lockdown restrictions apply. Please bear with us during this time. 
If you have any questions about what this means for you, please feel free to get in touch with our dedicated Supporter Contact team on 01460 238 000 (between 9am-5.30pm Monday to Friday) and by email anytime at supportercontact@actionaid.org.
You can also check our regularly updated answers to the most-asked questions about how coronavirus is affecting child sponsorship.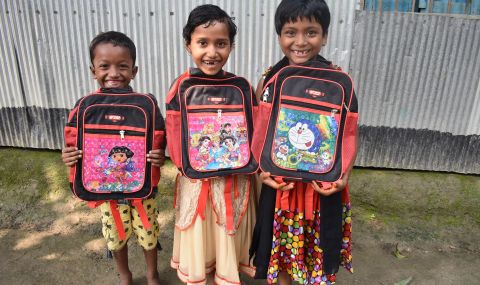 How to contribute to the Gift Fund if you are a child sponsor
There are several ways you can make a donation towards the Gift Fund for your sponsored child and his or her community.
If you sponsor more than one child across different communities and countries, your donation will be split equally across each of the children's communities.
Call our Supporter Contact Team on 01460 238 000 to make a debit or credit card donation. Our lines are open from Monday to Friday, 9am to 5.30pm.
Send a cheque, made payable to ActionAid. Please include your supporter reference number and clearly state that you are donating to the Gift Fund. Please send the cheque to the following address: ActionAid, Chard Business Park, Jarman Way, Chard, Somerset TA20 1FB.
You can also contribute towards the Gift Fund online by using our form below.
I'm not a child sponsor - can I still contribute to the Gift Fund?
The Gift Fund is only open to existing child sponsors. If you'd like to sponsor a child first, find out how you can start your sponsorship today.
Why we don't encourage sending direct gifts to your sponsored child
We appreciate the gesture of a gift to sponsored children; however we do not encourage special gifts of money or goods to be sent to individual children, for several reasons.
Sending gifts might cause jealousy and unhappiness because not all of the children within the community are sponsored or may receive gifts.
Some sponsors might send gifts that are unsuitable in nature or value, which might confuse or disorientate the child and their family.
In some of the countries where we work, postal systems can be unreliable, and we cannot guarantee that a parcel will arrive at its destination.
Additional resources may also be involved as ActionAid staff would have to collect and deliver any packages to remote areas that are difficult to reach, and in some cases customs duty may also be payable. These costs often outweigh the value of the gift.
Wherever possible, we also try to purchase items for the community locally; this not only ensures better value for money but also helps to support the local economy.
Top photo: In Southern Rwanda, 60 children at a local early learning centre were delighted to receive 26 balls from the gift fund. Credit: ActionAid.
Page updated 27 July 2021