Meet the COMBAT squads working to end child marriage in Ghana
30 June 2017
Meet Abiba, Valeria and Fidos. These brave women are all part of ActionAid COMBAT squads - Community Based Anti-Violence Teams - working to end violence against women and girls, especially child marriage, in their communities in northern Ghana.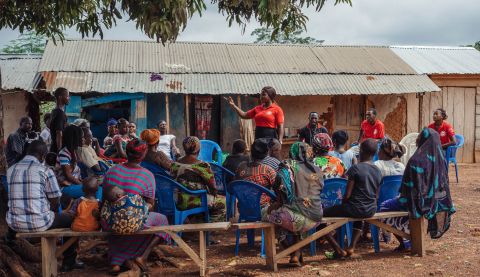 Worldwide, more than 250 million women alive today were married before their 15th birthday – robbing them of their childhoods, education, health and freedom, and subjecting them to rape and abuse for the rest of their lives.
Despite receiving threats and experiencing the social stigma of breaking tradition, ActionAid COMBAT squad members are determined to put an end to child marriage – to save girls being forced into a life they didn't choose.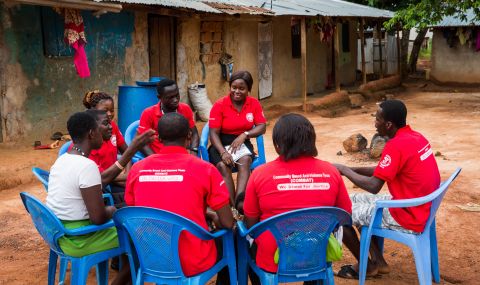 This is Abiba. She is a local ActionAid worker and leads 57 COMBAT squads.
ActionAid has trained COMBAT squads in all six regions of Ghana, but in Abiba's area child marriage rates are extra high, at 39%.
Girls are often abducted for child marriage – meaning they are violently kidnapped before being forced to marry their captors, usually many years older than them.
Abiba's COMBAT teams are determined to stop this from happening.
How do COMBAT squads work?
Each village has a squad made up of around ten different villagers – men and women – who represent a cross section of the community, and are trained by the police.
The teams actively go out into their community and talk about girls' rights to choose if, when and who they marry. They use various ways of getting their messages across – be it through giving talks in classrooms...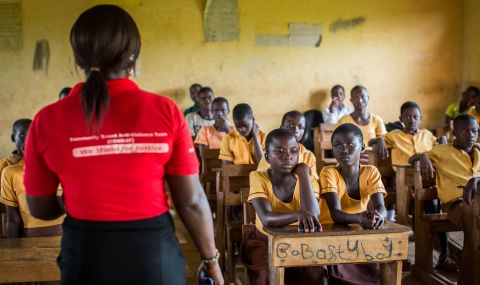 ...or using drama to help visualise scenarios of abduction and how girls can protect themselves or seek help.
COMBAT members report cases of child marriage to police officers who are on board, and work with them to make sure perpetrators are held to account.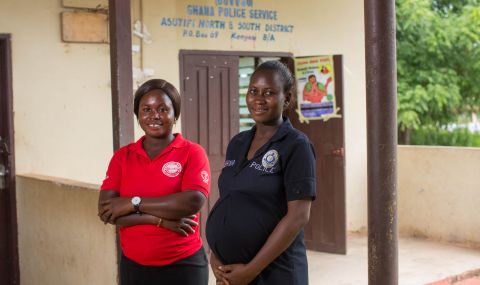 And they rescue girls who have been abducted and return them home safely to their families – girls like Ama.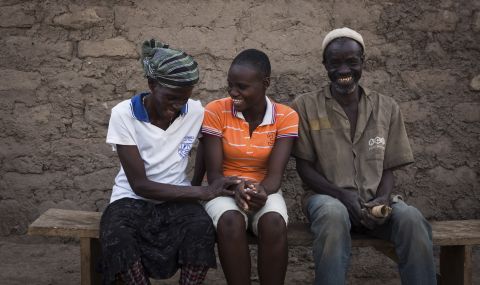 COMBAT members also support girls to go back to school, so they have better opportunities for the future and can gain the confidence they need to stand up for their own interests.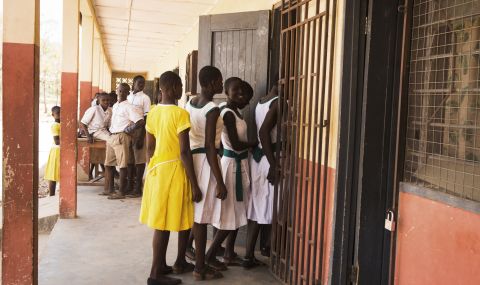 Gaining respect in the community
The teams' hard work means they are now revered in their local villages.
Valeria, (below), a member of one of Abiba's squads, said: "Even if men are fighting - if I pass by wearing my COMBAT t-shirt, they'll see me and stop, and say, 'COMBAT is coming'."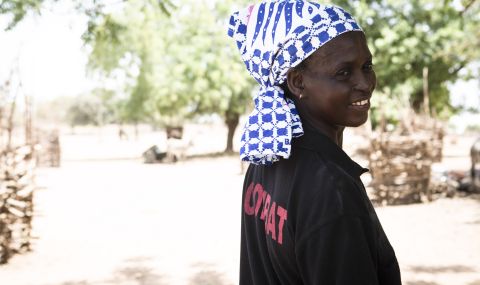 When Valeria's own daughter, Vivienne, was abducted and forced into marriage, aged 14, Valeria was very worried. "I was so sad, and then worried and angry."
But as a COMBAT member, she knew what to do: "I used the wisdom I acquired from the meetings, and I got my daughter back. She's now in the senior high-school."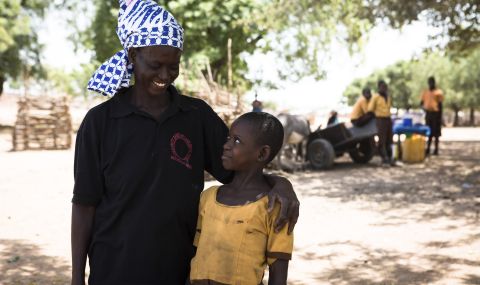 Standing up to violence at home
The authority of being a COMBAT squad member also helps women stand up to violence in their own home.
40-year-old Fidos (below) explains: "My husband used to beat me very violently. I thought that men beating their wives was just a normal practice.
"After I got trained as a COMBAT member things were different. Anytime he raised his hand to me, I'd show him my COMBAT ID card and say: "I have authority. If you dare touch me, I'm going to bring the police here to come and arrest you."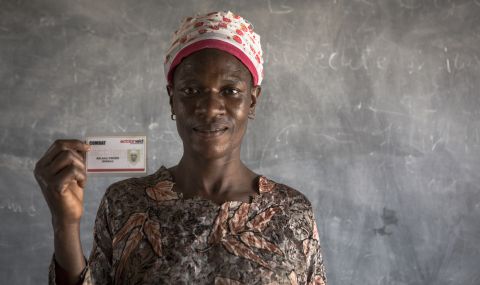 Help us end child marriage
Together, Abiba and her squads have helped rescue over 160 girls from abduction in the last five years, and prevented many more kidnappings through their awareness raising.
Abiba says: "I have seen attitudes change. We show people that to marry a girl below 18 is a crime. And we educate them that the negative effects are more damaging than any positive ones."
Globally, the practice is slowly declining, but as populations grow, hundreds of millions of girls will continue to be at risk.
A regular gift from you could help us support more COMBAT squads like Abiba's, and make sure girls get to be children, not girl brides.
Read next
30 November 2018

30 October 2018