Sonali's story: I'm an acid attack survivor but I'm not fearful
4 February 2020
Sonali, an acid attack survivor from Bangladesh, speaks about her experience of being attacked with acid, how she has recovered, and why she stands with women and girls to say #MyBodyIsMine.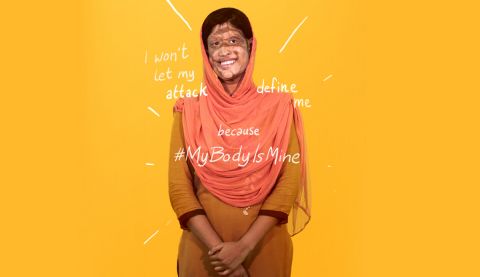 There were 400 acid attacks in Bangladesh the year I was born and 70% of them affected women and girls. I am one of those 400 people who experienced an attack – and it changed my life forever. 
Fourteen years ago, when I was just 18 days old, I was sleeping between my parents when an intruder entered our bedroom and threw acid over us. I was too young to remember the attack, but my mother has told me that we endured years of treatment in hospital as a result.
The acid not only severely damaged my skin, but it also damaged my new-born skull and caused it to change shape. I've had eight operations to repair the damage.
I didn't leave the house for a few years after the acid attack because the people in my community didn't accept my scarring. I remember that other children were afraid of me.
No one came to play with me; instead they whispered and stared at me.
When it was time for me to go to school, the teachers and parents tried to stop me going because they didn't want me around the other children.
How ActionAid's support has helped me move past my attack
ActionAid Bangladesh visited my school and spoke with the children and teachers, explaining what had happened to me and that it wasn't my fault. It really helped.
Now I'm 14 and I'm so happy to be in school as I have lots of friends now.
My favourite subjects are maths, Bengali and English. I also like to read books and each week my teacher lets us do drama. One day I want to be a doctor.
Taking to the stage alongside other survivors
Thanks to ActionAid we have been introduced to the Acid Survivors Foundation through which my mother and I were given the amazing opportunity to be part of a fashion show in Dhaka redefining the notion of beauty.
It was shown on TV and attended by fashion lovers and diplomats across the country.
Amazingly, we were then given the opportunity to take part in a similar fashion show – but this time in London!
The Survivors' Runway
I had never been on a plane before, but my dad came with me. It was great to be part of a group of eight acid attack survivors.
We all wore beautiful, bright, colourful Bangladeshi clothes designed by Bibi Russel who used to be a model and is now a UN ambassador.
How ActionAid are helping women to end acid attacks
Following a campaign led by ActionAid Bangladesh, legislation was introduced to limit the sale, storage and use of acid.
This provided a strong legal foundation for activists to challenge violence towards women and girls within their communities.
Attacks in Bangladesh have now dramatically declined.
But as Girish Menon, ActionAid UK's CEO, reminded us in his closing speech at the London fashion show:
Even one attack is one too many."
ActionAid is ending violence against women and girls worldwide. With our My Body Is Mine campaign we are helping women and girls reclaim their bodies, speak out against any form of violence and proudly say My Body Is Mine without fear of retribution.
Will you join us?
ActionAid
Read next
4 February 2020

16 October 2017

11 October 2017