Periods & pandemics: the call to end period poverty must be louder than ever
22 September 2020
Katy Chadwick from ActionAid UK and Ruby Bayley-Pratt from Bloody Good Period discuss the reality of periods, periods in a pandemic, and the need to go beyond ending period poverty and towards menstrual equity.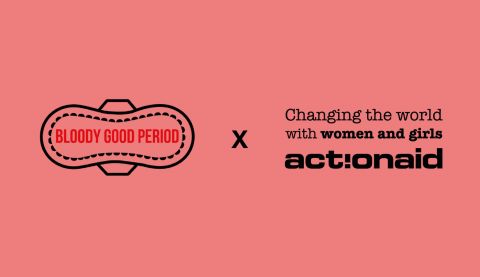 KC: Anyone who menstruates knows that feeling of being caught short – you're at school, at work, meeting with friends, using public transport –  you realise that your period is about to start and you have no menstrual products with you.
For many of us it's a minor inconvenience – a dash to the nearest public toilet maybe, a quick request of friends (or a friendly looking stranger), maybe even a risk of a stain on our clothes before we can get the products we need from home or the shops and get it sorted. 
One of the first things I noticed and appreciated when I started working for ActionAid is that you can find menstrual products in the bathrooms at work – no more being caught out in this workplace!
For so many of the women and girls ActionAid works with around the world however, a lack of access to products impacts on their ability to move freely, to access education and other opportunities, and this injustice has become ever more apparent during the Covid-19 pandemic.
RBP: Absolutely. Menstrual products are completely essential and unlike toilet paper are not free in public areas or workplaces. This blows my mind.
At Bloody Good Period, we are working on an initiative called Bloody Good Employers which will call on employers to become kind of 'menstrually inclusive' organisations.
People have shared their stories of having to do things like fake food poisoning cause that's more acceptable than having cramps, or panicking about needing to change a pad when they can't leave a meeting that's running late.
As you say, for a lot of people, these situations are just an inconvenience - but we know through our work that there are people who don't have friends or family they can just ask, or the means to just pop to the shops to buy products when they need them.
Many people end up having to go without, using toilet paper, rags, socks, or nothing at all.
They can become a prisoner in their home for fear of leaking in public or can develop infections or rashes from using inadequate products or homemade methods. 
And it's not just about access to products.
At Bloody Good Period we are focused on the concept of menstrual equity - the idea that an equitable and participatory society must have policies and provisions in place that ensure menstrual products and accurate information is available for all, in particular the most vulnerable in society such as asylum seekers, refugees and those living in poverty.
Tackling period poverty and stigma
KC: Period poverty is often defined as being unable to access period products due to financial constraints (or other hardships).
However, managing your period with dignity is about a lot more than access to products – those who menstruate have a right to appropriate period products and hygienic spaces to use them, a right to understand our menstrual cycle and the effects it has on our body and our mood, and a right to discuss these issues without shame or stigma.
It can be hard to discuss these things, I spend a lot of my working life talking about girls' rights, but even so, I felt slightly uncomfortable writing about menstrual stains on my clothes in that opening!
It's frustrating that this basic, and essential bodily function is covered with this patriarchal layer of shame!
And I feel really passionate about making this a more accessible and comfortable topic for the girls we work with around the world, through initiatives such as safe spaces and girls clubs, as well as opening up the conversation so that it includes those who don't menstruate, and can be discussed by the whole community without shame or stigma.
We're all here because of menstruation (whether it is something that happens with our own body or not), and it's so important that resources and support is available so that periods can be as comfortable as possible for everyone. 
RBP: This stigma directly impacts on people who menstruate being able to have healthy periods - we can't talk about irregularities, we can't manage our symptoms properly, we often can't access the health care we need, we can't be open with families, friends and colleagues about what we're experiencing.
And for some people, the stigma is so acute they're scared to ask those families, friends or colleagues when they need products.
We shouldn't have to hide periods away like they're some kind of shameful secret. They're a normal, healthy and essential bodily function.
Unfortunately, we've been raised in a patriarchal society that finds anything that comes out of women gross (discharge? tears?) and that doesn't prioritise the needs of people who menstruate. 
At Bloody Good Period, we think language plays a huge role in perpetuating this stigma and shame.
We use codewords, slang, and euphemisms; period products in shops are labelled as being for "feminine hygiene" as if there's something unhygienic about them; and period products are marketed as being "discreet".
Check out our handy summary on period talk for some alternatives (PDF). 
We actually also avoid the word dignity as we feel like it can be a bit patronising / white saviourish.
Having access to period products and knowledge about our bodies is a matter of public health and human rights and we would encourage people to talk about it in those terms. 
Bodily autonomy and menstrual equity
KC: I completely agree that how we use language plays a large part in the shame and stigma we see around periods, and that changing the words we use, and creating space for everyone to participate in honest and open conversations without fear can help to break this down.
It's also an interesting point around the phrase 'managing your period with dignity'.
I would often use this phrase to show that we are talking about a holistic understanding of menstruation (rather than just supplying the products people need), but it is also true that it's important to check that the words we use to describe the menstruation of people in other parts of the world would also be comfortable to use about our own menstruation experiences.
Creating the space to have these conversations is a large part of the work ActionAid does to support menstrual equity – we run Girls Clubs in collaboration with local partners in many locations around the world, and a vital part of these clubs is providing girls and young women with a safe space to understand their body, their menstrual cycle and their right to bodily autonomy.
In Ghana, for example, we have been working with girls and young women through the Young Female Platforms initiative.
As part of this initiative girls and young women take part in a curriculum that moves through four themes, starting with creating a safe and inclusive space  (Module 1: 'I Belong'), moving into rights education (Module 2 'My Rights, My Story'), before looking at power and leadership (Module 3 'The Power in Me') and finally developing their own advocacy and campaigns plans (Module 4: 'Advocacy').
In a recent review of the project girls spoke about understanding more about their bodies, and their right to decide what happens to it, one participant told us that '[we now understand] how to calculate our periods and observe any changes, how to wash ourselves and how to dispose of our sanitary pads' whilst another reported 'I now understand the meaning of consent, when and how to give consent'.
RBP: Education is so important when it comes to menstruation; most of us have inadequate access to it, even those of us who were taught about it at school.
Marginalised groups, such as asylum seekers and refugee women, are more likely to experience menstrual ill-health and a lack of service provision in the UK.
This is not just down to doubts around eligibility but because people face issues with advocating for themselves and knowing their own rights.
Accessing gynaecological care, usually referred to through GP services, can be really hard. These women are often facing trauma from past experiences, a fear of being reported to immigration enforcement, and poverty (many are unable to work and asylum support is £39.60 per week - formerly £37.75 before Covid-19).
These intersections make accessing safe spaces to talk freely and ask questions about stigmatised subjects pretty impossible.
Over the past year at Bloody Good Period, we've been running an education programme for refugee and asylum seeking women on menstrual, sexual, and reproductive health information and service-signposting with gynaecologists and interpreters to carve out this space for women to learn about their bodies and related services, alleviate feelings of social isolation, forge greater trust between services and communities, and encourage women to take better control of their health. 
Periods in a pandemic
KC: During COVID 19 we have also been hearing from girls and young women that one of their most urgent needs is menstrual supplies – in a time of crisis the last thing you need is to be worrying about where to find a sanitary towel!
ActionAid have been providing menstrual products in the dignity kits that have been distributed during Covid (and that include other essential hygiene items such as hand sanitiser).
This has been an essential stopgap, but it's not enough – and we need more national laws, such as the one in Kenya, that provide menstrual supplies free of charge.
Providing these in schools (as has recently become policy in the UK) is a great start, but we need to also ensure that those supplies then reach the most marginalised women and girls, and that they reach them consistently - especially during emergencies such as COVID, or in emergency settings such as refugee camps.
RBP: At the beginning of lockdown, we saw a huge surge in demand for products from people who were self-isolating or who simply couldn't afford to purchase products as a result of losing work.
Turns out periods don't stop for pandemics! We had to quickly reshape our service provision and I have to say I think it was one of my proudest moments at the charity.
We wanted to support as many people as possible so we implemented a trust-based "Take What You Need" (TWYN) scheme via our storage facility, opening it up to anyone who needed products like drop-in centres, refuges, homeless shelters and food banks.
We even supplied frontline NHS workers who were struggling to access period essentials. It became so clear that our work was essential.
That said, like you say, we really do not believe that this service should have to exist and that people should not have to rely on a small charity for period products.
Like condoms, we think the government should be taking care of this essential need for those who struggle to access them. And we will not stop campaigning to make this happen. 
Take action for menstrual equity
You can also talk to your friends and family about menstrual equity – change can start with open and honest conversations that challenge stigma and shame.
And advocate to make period products freely available in the bathrooms at your work place, in schools and other community spaces.