"Until women are safe": how ending violence is possible
18 March 2021
The events of this month have awakened a conversation on how to stem the tide of violence and harassment that women face on a daily basis. We must take meaningful action to end violence against women.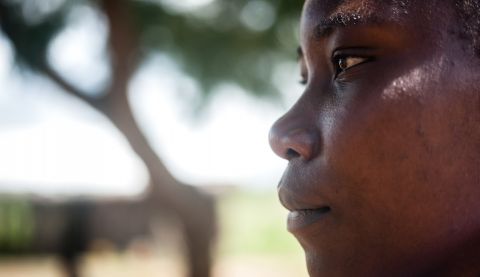 Women are not safe. On the streets, in our homes, at work, in places of study, places of worship, places of recreation, we face violence and threats because we are women.
The events of this month – the disappearance and tragic death of a woman from London, Sarah Everard, the subsequent outpouring of grief, and police response to peaceful vigils – has awakened a conversation on how to stem the tide of violence and harassment that women face on a daily basis.  
Tragically, for every death or case of abuse that reaches the headlines, there are countless others – particularly involving women of colour and minoritized women and girls – that go unnoticed or that are disregarded by many as an unfortunate part of life.  
Violence against women is not rare 
At least one in three women globally experience violence in their lifetimes, usually at the hands of a partner, relative or someone known to them.
Two women every week are murdered by men in England and Wales. A UN Women UK report found that 97% of UK women aged 18-24 have been harassed in public1 – almost all young women understand what it's like to not feel safe in the street.
The problem of violence against women is a global one, but it is felt locally, personally, and painfully by women in our every day lives. How do we address a problem that is at once so personal and devastating in its impact, and so global in its embeddedness and scale?
It can feel overwhelming, as frankly nothing short of a complete transformation of the power relations between women and men will stop it once and for all.
Until women can live freely and fully, and the multiple and intersecting discrimination against them is addressed, violence will continue. Feminists don't say "smash the patriarchy" for nothing!
Transformative change, not quick fixes 
Authorities must listen to women. Responding to violence with quick fixes such as street lighting, is never going to fundamentally address gender inequality.   
Plain-clothes police officers patrolling pubs and clubs will not fundamentally change the structures of misogyny that underpin society. 
ActionAid knows from our programming that we need transformational approaches that address violence at its roots, working in partnership with women's rights organisations that support women and girls who speak out about their experiences, and challenge the misogynistic attitudes and structures that lead to male violence.
In 2016, we launched our Safe Cities campaign across Africa, Asia and Latin America, with the aim of improving safety, mobility and access to public services for women and girls living in poverty.
Broad and inclusive networks of women identified what contributed to them feeling safe or unsafe on the streets.
The responses were wide-ranging and demanded wide-ranging action: from robust new laws, to freedom to protest and raise awareness and organise as women's movements, to practical safety measures on public transport and in public spaces including streets.
Women must be listened to 
Our Safe Cities research (PDF) on violence against women in 10 cities highlighted that women's safety and enjoyments of their right in cities depends on four key inter-linked aspects: a strong legal framework; a plan on violence against women with budget allocation; well funded gender-responsive public services (shelters, healthcare, water and sanitation facilities, education and justice systems than meet the particular needs of women and girls); and women's full involvement and leadership in urban planning. 
Women's rights organisations – who bring invaluable practice-based expertise in the fight to end violence – are key to holding authorities to account on delivering on their commitments.
Yet they remain chronically underfunded, despite overwhelming evidence of their ability to bring about change.  
Just like in the streets of London, the streets of Delhi, Accra, Sao Paolo and cities the world over won't be safe for women and girls until we start listening to and being guided by the needs of women and girls, and stop normalising and excusing male violence. 
Help us to take action 
If you agree that violence against women is not inevitable, but that meaningful change is possible if we take action – please share this blog on social media now.
Footnotes
1https://www.unwomenuk.org/safe-spaces-now
Tommie Ominde/ActionAid
Read next
15 December 2020

9 December 2020