Singer Lucy Rose on stopping the abortions of girls in India
15 March 2016
Singer Lucy Rose's new music video 'Nebraska' stars Danny Dyer as a conflicted man coming to terms with how to present himself to the world as who he really is. Around the world pressure from society holds people back - from what we wear to how we are valued by others.
During a recent trip to India with ActionAid, 26-year-old Lucy discovered the catastrophic consequences of girls not being valued as highly as boys. Read her moving account of visiting a celebration of new born girls to find out why this festival is so important for the identity of girls in India.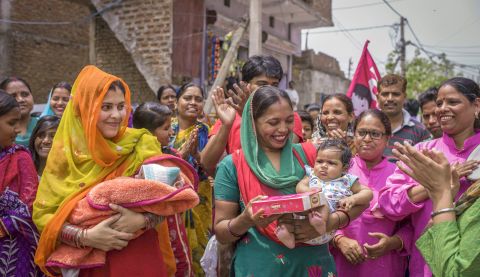 Having never visited India before, I didn't really know what to expect. Nearly all reviews from friends described an amazingly colourful and beautiful country, which is absolutely true. However, I was completely unaware of the huge problem India is facing due to high numbers of female foeticide - abortions of baby girls - causing a serious imbalance in India's sex ratio.
The numbers are staggering. According to estimates by experts, there are 60 million missing women in India because they are being aborted before they are even born. 7,000 go missing every day. The 2011 census revealed there were only 919 girls to every 1,000 boys.
My morning began meeting a couple of women from ActionAid India who explained why women are pressured into having an abortion. The pressure usually comes from family, including their mother-in law, husband and even their own mother, because girls are seen as a drain on the family.
In traditional Indian society, when a daughter gets married her parents have to give a dowry to the groom and his family - which is very expensive, especially for poor families. When parents get older they usually rely on their children to support them, but since daughters usually get married and live with their husband's family, parents with only daughters may be left with no one to look after them in their old age – a real fear in a country where there is no welfare or state pension system.
Even if girls don't get married, they are less likely to be educated and so are generally less employable and would earn lower wages for the same work. This all means that it is financially better for parents to have boys.
The importance of celebrating the birth of girls
India has laws in place against sex selective ultrasound tests and aborting girls, however what is really needed is a shift in the way society values girls.
I joined in a "Beti Utsav", which means a 'celebration of daughters'. This is an innovative project run by ActionAid India across 12 areas of Delhi that is changing entrenched attitudes.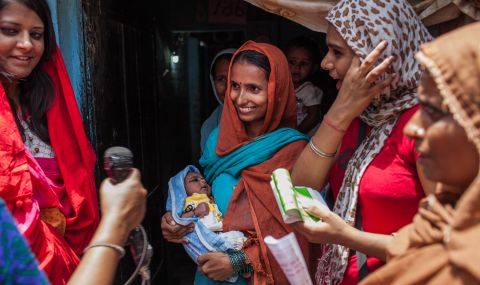 The whole community had come together to celebrate the birth of ten new born baby girls by chanting, singing, dancing and showing their support to the mothers. It was hugely inspiring and very emotional for everyone involved. To see ten proud mothers on stage celebrating their daughters was beautiful, especially after everything I had heard about the shame mothers can normally feel.
Most of the mothers had been married at a young age, between 13 and 16 years old, and one who was my age (26) had four children already. Each mother made her own speech exclaiming how overjoyed she was to have a daughter that the community had joined her to celebrate.
An older lady began to cry and asked to speak. She said: "I am so happy that this celebration has started happening. I wish that this had been around when I gave birth to my own daughter. Instead I was made to feel ashamed. I never had the chance to tell my daughter how much happiness she brought to my life."
Girls determined to go to school
Children got up to do performances too. One group of girls did a play they had written about girls wanting to go to school. This was also new to me; I had no idea that most girls in this community didn't go to school but boys did. Their story explained the benefits of girls' education, such as how learning to read and write helps girls earn a living and do simple things like check the expiry dates on medicines.
Seeing young girls putting forward their arguments for why they should be able to go to school in front of their whole community made me again realise how much I've taken for granted my whole life. Of course girls should be allowed to go to school along with their brothers, but instead many of them are forbidden and made to do housework.
Together we can change the future for girls
I was honoured to be a part of this celebration and to experience the change that is coming about in India. Growing up in the UK as part of a loving family I had never considered being a girl as negative. I love being a girl and am lucky enough to never have felt like my opportunities have been limited because of my gender. Gaining an insight into a culture where girls are not valued equally made me realise how important the fight for gender equality is.
It was hugely empowering to see women stand up to everything tradition had taught them and show they wanted change. They proved that, despite everything, they would protect, embrace and continue to celebrate their daughters' lives to show that girls are loved just as much as boys.
Beti Utsav celebrations is just one of many ways that ActionAid is tackling violence against women and girls, which affects one in three women around the world. Please join me in supporting their work toward a world where girls are equal to boys, and where all forms of violence against women are unacceptable.
Photo credits: Poulomi Basu/ActionAid, Lucy Rose, Florian Lang/Actionaid  
Read next
3 August 2022

18 March 2021