For just 65p a day, your class or school can change a child's life for good when you become a sponsor with ActionAid.
Your support could transform the life of a girl like eleven-year-old Jharna from Bangladesh. Thanks to child sponsorship, she is the first member of her family to go to school, and spends her free time at her local ActionAid centre where she can play in safety with her friends.
Through our child sponsorship programme we can reach more girls like Jharna. Your sponsorship would make a huge difference to a child in need - ensuring they have enough to eat, an education and hope for the future.
As their only sponsor, your pupils will have a special relationship with your sponsored child and get a unique insight into their life.
Sponsor a child today and see for yourself the difference your support can make.
What happens when I sponsor a child?
As soon as you sign up, we'll send a welcome pack with a photo of the child you're sponsoring and their story so far. 
You'll go on a journey together, with two handwritten messages a year from your child about themself and their life – they might be letters, drawings, or postcards. Over time you'll get a new photo at special milestones so you can see them grow and thrive.
Your pupils can write back to their sponsored child. Through sending and receiving messages they will develop a one-to-one relationship and gain a unique insight into the change they are helping to create.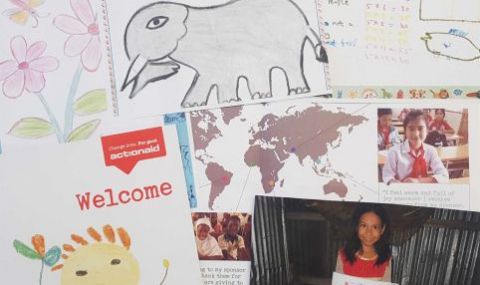 Messages, photos and drawings from sponsored children
What teachers say about sponsoring a child
Our school sponsors Richard from Tanzania. He is the same age as many pupils, likes football, loves maths, and wants to be a doctor. He lost his parents to AIDS, and feels responsible for his two younger siblings.

The children have written to Richard, and have been delighted to receive letters back. This individual and personal tie has made the difference to so many of our children."
What will my child sponsorship pay for?
Food

Nutritious meals for children and seeds and livestock for families to grow their own food

Education

Schoolbooks, fees, equipment and even a whole new school building in the sponsored child's community

Clean water

Building wells, purifying water sources, and better sanitation facilities

Healthcare

Medical and dental clinics, basic medical supplies and health education
What child sponsorship can do: Purna's story
Purna is a midwife and has two daughters. Here she's holding up a photo of herself aged 12, when she was sponsored through ActionAid. 
Growing up in rural Nepal, Purna's family were very poor - her family couldn't afford to send her to school. But with the help of her sponsor, Purna was able to go to school and fulfill her dream of becoming a nurse, then a midwife. 
Purna has now helped to deliver hundreds of babies, saved many lives and cared for many more mothers and children.
Being without education is like being blind. [But my sponsor] opened my eyes. Because of them I was also able to open the eyes of my children. Education is very important."
80% of the donations we receive through child sponsorship goes overseas (while 20% is spent in the UK on raising awareness and finding more supporters).
Of the 80% overseas gift, 70% goes directly to your sponsored child's community or, if there is an exceptional need such as a life-threatening emergency, another community within their country.
The remaining 30% is used to fund other vital work in developing countries, and running child sponsorship so that you can receive messages from your sponsored child, and hear how your gift is changing lives.
Photos: Karin Schermbrucker, Greg Funnell, Nicolas Axelrod, Caroline Thomas, Savann Oeurm, Des Willie, Nayantara Gurung Kakshapati / ActionAid.
Page updated 26 August 2021