Support ActionAid through People's Postcode Lottery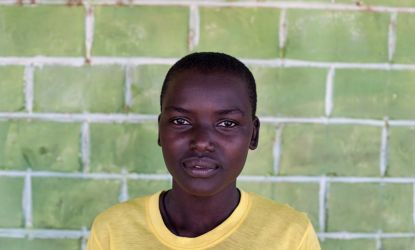 Your support can help protect girls like Salome from FGM
Salome was only 12 when she ran away from home to escape female genital mutilation (FGM). When her father called a cutter early one morning she fled, walking over 200km to find a school to take her in and protect her.
I didn't know anywhere to go, I just ran in one direction… I slept overnight in a tree the first day.
Now, Salome is safe, but she is still not in contact with her family. With the support of players of the People's Postcode Lottery, ActionAid is working to end FGM so that girls like Salome will no longer be forcibly cut.
We provide direct support to women and girls who have escaped FGM. We help communities to learn and openly talk about its damaging effects, and we train women to form Women's Watch Groups to report cases of FGM.
The small print
People's Postcode Lottery manages lotteries on behalf of 20 Postcode Trusts. People play with their chosen postcodes for a chance to win cash prizes. A minimum of 33% from each subscription goes directly to charities and good causes in Britain and internationally. Players have raised more than £700 million so far. For details of the charities and good causes which are promoting and benefitting from the lottery draws, please visit www.postcodelottery.co.uk/good-causes/draw-calendar
It costs £10 a month to play and winning postcodes are announced every day. The maximum amount a single ticket can win is 10% of the draw proceeds. For details, please visit www.postcodelottery.co.uk/prizes
New players can sign up to pay using direct debit by calling 0808 109 8765. New players who sign up online at www.postcodelottery.co.uk can pay using direct debit, debit card or PayPal.
Postcode Lottery Limited is regulated by the Gambling Commission under licence numbers: 000-000829-N-102511 and 000-000829-R-102513. Registered office: 2nd Floor, 31 Chertsey Street, Guildford, Surrey, England, GU1 4HD

https://www.begambleaware.org/

Top image: Friends Abigail, 14, and Purity, 13, escaped FGM thanks to support from ActionAid. Ashley Hamer /ActionAid
Page updated 20 September 2021