What do teenage girls think about violence against women?
11 October 2017
Last night, 16-year-old Girlguide, Caitlin, met 14-year-old acid attack survivor Sonali, after ActionAid's Survivors' Runway fashion show. This special event was to stand in solidarity with survivors to end all forms of violence against women and girls. Watch the two teenagers reflect on the show and share their messages to girls in the UK for International Day of the Girl.
Sonali was attacked as a baby
Sonali was only 18 days old when she was attacked, along with her parents, in bed in the middle of the night. She says:
"It was not easy. And it's still not easy, growing up. But as a member of the Survivors' Network I've learnt a lot, and today I am in London, because of this, and thanks to ActionAid.
It's still not easy, growing up
I'm very well now, I'm getting an education, and going to school."
Girlguide campaigner Caitlin
Caitlin is an active member of Girlguiding and talked passionately about their campaign on sexual harassment in schools.
"It's basically us calling on decision makers and on young people to make sure that schools are a safe place for young people," Caitlin explained.
Schools should be a safe place for young people.
A place where they don't have to feel at risk, and in fear of being sexually harassed. And that the behaviour that is in those environments is not one where young girls can feel uncomfortable."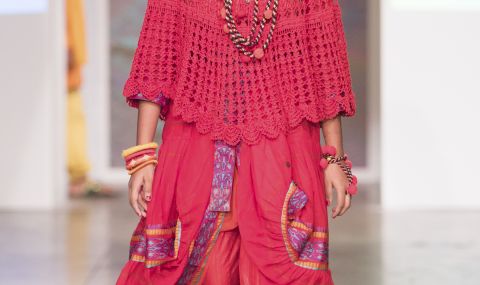 How social media helps amplify girls' voices
Caitlin expressed how social media is a core part of her campaigning work:
"Nowadays we are so lucky in that we have a platform, social media. We're on our phones, on our iPads, on our laptops.
"Often young women's voices aren't heard, but as we progress, I think social media is a really powerful platform for us to make our voices heard."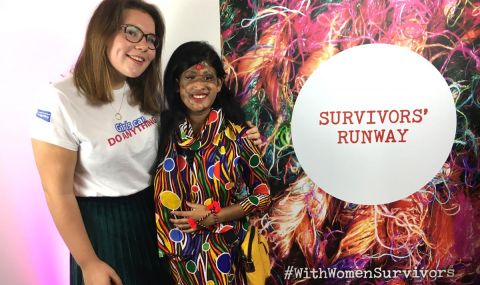 A message to girls in the UK
When asked if there was anything they would like to say to online viewers, particularly girls in the UK, Sonali said simply:
"I would like to say that please join us to help stop acid violence."
Caitlin added:
"To all young girls, especially on International Day of the Girl, remember that your voices do matter. If there's an issue that you think needs to be addressed, then you can be that change and go and advocate on it.
"Sonali has done that by coming here and by raising awareness for an issue that shouldn't happen. By being brave she has helped make sure that in the future, things only progress."
It was such a pleasure and privilege to meet with Sonali and Caitlin, two confident teenage girls speaking out about discrimination that affects girls, each in their own powerful way.
To find out more about ActionAid's on-going campaigning on this issue, please register your details below. We'd love to welcome you as an ActionAid campaigner, to help us stand #WithWomenSurvivors and end violence against women and girls, for good.
Read next
16 December 2020

26 December 2019