Why Netflix's 'Period. End of Sentence.' should be on your watch list
22 February 2019
Netflix's new documentary 'Period. End of Sentence.' is up for an Oscar; here's why it is essential viewing that proves the transformative power of ending period shame.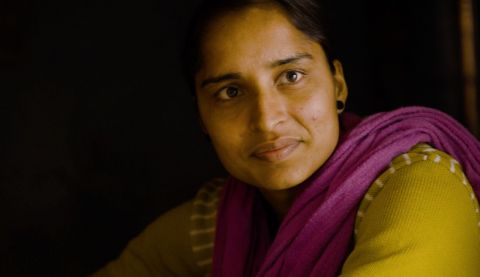 "I hear it's an illness. It mostly affects girls, right?"
So begins Netflix's 'Period. End of Sentence.', as a group of bewildered young men in Hapur, near Delhi, is asked what they know about periods. They also guess that it relates to periods at school… which happen when the bell rings. 
Rayka Zehtabchi's inspirational documentary tells the story of a group of women who begin making and selling affordable, biodegradable sanitary pads in a community where the mere mention of periods elicits not just giggles - of which there are plenty - but also shame, ridicule and stigma. 
The project in Hapur District of Uttar Pradesh was an initiative of Action India – a partner organisation of ActionAid in India. ActionAid India supports Action India's work in Delhi through child sponsors in India.
In a village just 60km from Delhi, we meet women who have never had access to sanitary protection, meaning they risk health problems and often drop out of school. But when a machine in installed in the village, to produce low-cost, biodegradable sanitary pads, wheels are set in motion for real change. 
A group of fearless women begin making and selling thousands of pads to their community, under the brand name 'Fly'. Their mission is not just to sell pads, but to free women from the stigma and shame that comes with their periods - and achieve financial independence for themselves in the meantime.
Bravely they go out into their community and begin sharing the product with other women and girls. They demonstrate how they work, talk about their benefits and, crucially, have conversations about the realities of periods.
In one momentous scene, a group of women and girls are asked who wants to buy a pack. For seconds there's a still silence. Then one brave girl raises a hand and asks for a pack; moments later, the whole room is alive with noise and women clamouring to buy.
We had our reasons behind the name 'Fly'", says Suman, one of the women from the village. "We have installed this machine for women. So now we want women to rise and fly".
This is the essential message that lies of the heart of 'Period. End of Sentence'. Periods in this village, but also in communities all over the world, too often have a devastating effect on women and girls' lives. 
This natural bodily function often leads girls to miss days of school, or drop out altogether, putting them at greater risk of child marriage and getting pregnant at a younger age. And throughout their lives, women can be forced to deal with a monthly shame, being separated from the rest of their communities.
At ActionAid, we know this stigma is challenging to defeat. But around the world we're working with communities to do just that.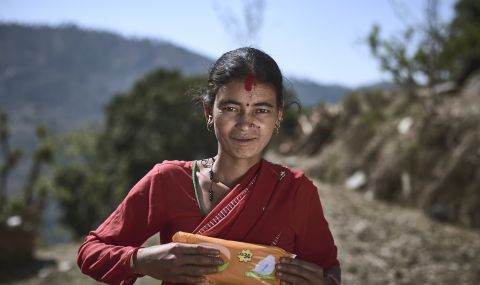 Period shame around the world
In western Nepal, Chhaupadi is an ancient period shaming practice carried out in some communities. Although it's been illegal in Nepal since 2005, deeply-held views mean it continues. Girls are banished from their homes during their periods and forced to live alone in isolated huts, because they are believed to bring bad luck. 
That's why we work with community leaders to put a stop to chhaupadi, through education, awareness-raising sessions in schools, and intervention. Together, we've helped establish at least 11 'chhaupadi–free' communities in western Nepal.
Meanwhile in Rwanda, many girls miss up to 50 days of school or work every year because of their period. Here, ActionAid has built safe spaces for girls in nine schools, equipped with a toilet, a shower, sanitary products, spare clothes, and a private space to change and rest. 
These safe spaces ensure that girls don't have to fear the embarrassment of stains on their clothes - and boys in their class bullying them about it - which stops them from going to school.
Our work is helping women and girls to overcome the stigma and shame of periods but, as Netflix's 'Period. End of Sentence.' shows, there's so much more work to be done. 
The transformative change in 'Period. End of Sentence.'
Supporting women and girls to access reusable or biodegradable sanitary products seems like a simple, practical step but in fact, it is so much more than that. 
Sanitary products allow women to go about their lives without shame. And when women are supported with the tools to create and sell their own sanitary products, we see conversations opening up - meaningful, impactful conversations about periods that too often are stifled or whispered.
It is these conversations that allow real change to happen in communities.
"The thing is, when there's patriarchy, it takes time to talk about something related to women," says one of the women in Hapur, India. "It's taking time even among us women, but we'll get there". 
Action India have set up two pad-making units in India, and are in talks to continue setting up these transformative initiatives. Find out how you can support our work to end period poverty here.
Rayka Zehtabchi/Netflix; Poulomi Basu/ActionAid, Jennifer Huxta/Actionaid