Cyclone Idai: latest updates
19 March 2019
Cyclone Idai has caused devastation across southern Africa, including Mozambique, Zimbabwe and Malawi, with widespread destruction and loss of life. See the latest updates about this disaster as it unfolds.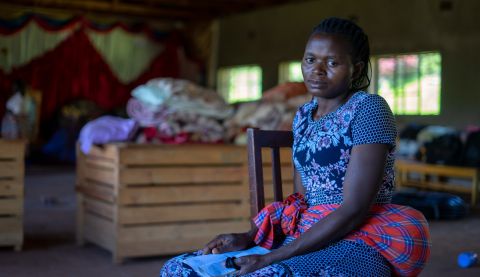 Latest update: Tuesday 2 April 2019
Latest reports from Mozambique, Zimbabwe and Malawi suggest that aid is reaching those in need, and some people who fled their homes as flood waters rose have been able to return home. However, around 3 million people are still in need of humanitarian assistance.
Women and adolescent girls are in urgent need of sanitary products, clean water and private latrines or bathing areas in order to manage their periods safely and with dignity. DEC member charities are hearing reports from some women that they have been forced to use small pieces of cotton or nappies because of a lack of sanitary products. 
In Zimbabwe, ActionAid is rolling out our response to meet the needs of women and girls: along with thousands of kilograms of food and cooking oil, we are distributing sanitary pads, underwear packs, towels, soap. 
And in Malawi, ActionAid has reached around 12,700 people with our initial rapid response. We are working with local women's forums to ensure the protection of women and girls in evacuation camps, and distributing food, lamps, utensils, sleeping mats, soap and mosquito nets.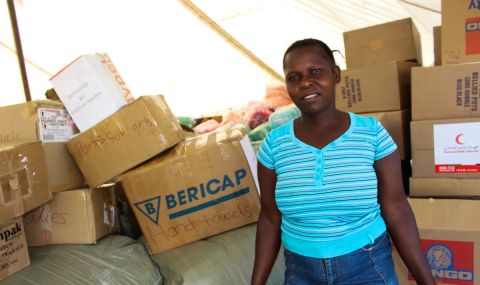 34-year-old Progress is a farmer, mother-of-five and community mobiliser in Chimanimani, Zimbabwe. She is helping with the distribution of aid. 
"I am here representing women as their leader," she said. 
Among the food and non-food items distributed by ActionAid Zimbabwe, the organisation has donated pants and towels for girls and sanitary wear for women and girls. ActionAid had donated pots and plates which are usually a responsibility of women in a patriarchal society like Zimbabwe.
"I am happy to see that women will receive pots. Having no pots in the house affects women more than men."
Please donate to the Cyclone Idai Appeal now, so we can reach as many people as possible in the wake of this disaster.
Update: Monday 1 April 2019
Latest updates suggest women and girls are disproportionately at risk following the cyclone in Malawi, Zimbabwe and Mozambique. 
The destruction of homes and vital infrastructure, and the chaos that ensues, can pave the way for exploitation and injustices against women:
rape, sexual violence and exploitation and associated diseases
a lack of sanitary products and private, hygienic facilities where they can manage their period
for the tens of thousands of pregnant women pregnant women in the affected region, the danger of giving birth with no medical care – for many this will have been out in the open, exposed to the rain.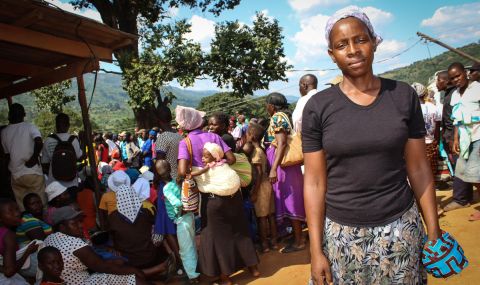 Majiva Mangweva, a survivor from Kopa in Chimanimani, Zimbabwe is a single mother of three. All of her children are missing, as well as her mother.
 
"When it started raining at night, we received a phone call from our neighbour between nine and 10 pm saying it was flooding heavily," she told us.
I carried my baby on my back and we went out together with the rest of my family - my two other children and my mother. We went to a small road but could not cross because it was flooded. We waited hoping that the water level would subside, but the intensity of the rain increased, and we were swept away."
"I did not know where I was taken to and I did not know what time it was. My baby fell off and I was taken down stream. I was stopped by a tree, and I clutched onto it. I waved for help. I saw a girl who was also stuck. I gave her signs not to cross the river as it was flooded. We continued waving for help and some people who were alive and near us shouted that they could not assist us because they were also stuck. No one could help."
Majiva's neighbour, Dadirai Thokozile Ndima, told us:
We wonder if the people of Kopa will ever recover from this. My neighbour (Majiva) lost all her family members including the baby she was carrying on her back. Right now, she seems strong and not showing signs of grieving because she is in shock. I am afraid one day she is going to just breakdown."
"Every day, she is going to where her house used to be with hopes of finding her children and mother, but there is no sign of them. If she hears rumours of a body being recovered in the area, she rushes to check but has not been able to see her children and mother. She requires serious support."
Update: Thursday 28 March 2019
ActionAid is continuing to work in Mozambique, Malawi and Zimbabwe to reach as many people affected by the cyclone. 
ActionAid Zimbabwe's Takaitei Bote spoke to us from Chimanimani, Zimbabwe about the devastation witnessed there:
Latest updates suggest in Mozambique, more than 74,600 women impacted by the cyclone are estimated to be pregnant, of whom 60 per cent are expected to give birth in the next six months.
We are putting women and girls at the heart of our response, including distributing hygiene kits and sanitary protection for women and girls, and mosquito nets for expectant and new mothers.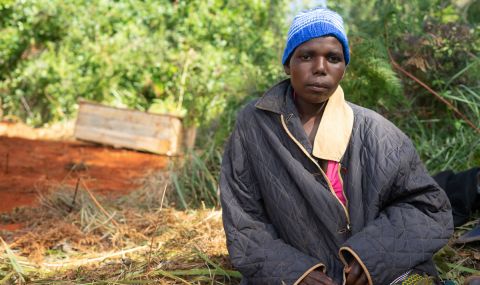 26-year-old Talent is from Chimanimani, Zimbabwe. She lost her daughter in the cyclone, and her son is still missing. 
"I am afraid that this cyclone may come back," she said. 
"I lost my 3-year-old daughter and my husband is still looking searching for our son in the rubble. We no longer have a home and we will have to start over from scratch."
Find out more about the disaster, the definition of a cyclone and how cyclones cause damage on our blog.
Update: Wednesday 27 March 2019
Latest figures suggest 2.5 million people are in need of humanitarian assistance and protection in the wake of the cyclone. 
The inevitability of a secondary emergency is apparent; stagnant water, overcrowded conditions in communal shelters, poor water and sanitation and limited access to clean water are conditions for cholera and malaria outbreaks.
In the wake of #CycloneIdai, cholera has been reported and there is a high risk of other water-borne diseases.

Our local staff on the ground are working to save lives, but conditions in Malawi, Mozambique and Zimbabwe are still challenging. Please help: https://t.co/e8YCjfc6lN pic.twitter.com/DVVpT75Wsd

— ActionAid UK (@ActionAidUK) March 26, 2019
Chikondi Chabvuta is the Programme Lead in Nsanje, ActionAid Malawi. Nsanje is a severely flooded district in Malawi's far south. Rivers have broken their banks and many houses are fully submerged, leaving over 11,000 families displaced. She told us:
 
"We are supporting families in three temporary camps in Nsanje District. People here have lost everything. Women and children are in desperate need. They are sleeping on the floor and there is no sanitation in the camps."
"We are particularly concerned for the safety of women and girls in the camps as they are now so overcrowded."
 
"ActionAid is providing food, water, sanitary kits and mosquito nets for pregnant women and breastfeeding mothers."
"To help women and girls move around the camps safely at night we are also providing solar lamps."
 
Update: Tuesday 26 March 2019
Latest estimates show more than 2,000 people are reported injured after Cyclone Idai. 
In Mozambique, Cyclone Idai destroyed as much as 90% of Beira City, the fourth largest city in Mozambique with a population of 530,000 people.
The United Nations World Food Programme has now declared the Mozambique crisis a Level 3 emergency. This follows the government's declaration of a national emergency – the country's first – and request for international assistance. 
An estimated 110,000 people in Mozambique are sheltering in temporary sites, and some 3,140 schools have also been destroyed, which means that more than 90,000 students no longer have a school to go to.
DEC charities are on the ground in #Mozambique, #Malawi and #Zimbabwe delivering aid to those who need it most.

This #CharityTuesday please support our Cyclone Idai Appeal and donate today: https://t.co/qPy0EslyU0 pic.twitter.com/2a8zb2mTjb

— DEC (@decappeal) March 26, 2019
Update: Monday 25 March 2019
At least 750 people have been confirmed dead, and the death toll is expected to rise in the days ahead, as the full extent of the disaster becomes known. Hundreds more are injured or missing.
An estimated 3 million people have been affected, with an estimated 400,000 people having lost their homes.
With little clean water available, cholera cases have been reported and there is a high risk of outbreaks of other waterborne diseases.
Conditions in Mozambique in particular remain challenging and some areas are still inaccessible, but aid is starting to get through.
ActionAid and other DEC member agencies are working closely with national partners to support the rescue and relief effort. Aid is being delivered, including food, clean water, emergency shelter materials and blankets and urgent health assistance.
As search & rescue efforts continue in Mozambique, Malawi & Zimbabwe, latest estimates suggest 400,000 people have lost their homes.

We still urgently need your help to save as many lives as possible following #CycloneIdai. Please help: https://t.co/e8YCjfc6lN #MondayMotivation pic.twitter.com/GzZC2HXC48

— ActionAid UK (@ActionAidUK) March 25, 2019
The extent of the devastation wrought by #CycloneIdai is still unfolding. Please help people and communities in Mozambique, Malawi and Zimbabwe recover and rebuild. Donate now: https://t.co/qPy0EslyU0 pic.twitter.com/n9XWRDlFIs

— DEC (@decappeal) March 25, 2019
Please donate to our Cyclone Idai appeal, and help us reach as many people as possible. 
Rueben Manyange/ActionAid.