Launch of the DEC Indonesia Tsunami Appeal
3 October 2018
A DEC appeal has been launched to respond to the Indonesia tsunami and earthquake, with the Government matching the first £2 million of donations through Aid Match.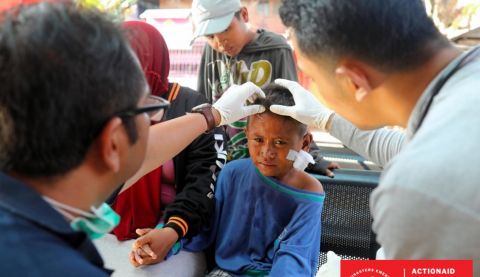 DEC Indonesia Tsunami Appeal launch
ActionAid are proud to be part of the DEC Indonesia Tsunami Appeal, which launched on Thursday, 5 October to bring together the efforts of 14 UK charities.
International Development Secretary, Penny Mordaunt, has announced that the Government will provide further assistance to those affected by the earthquake and tsunami by aid matching the DEC appeal.
"The British public have been very moved by the plight of so many people hit by these terrible events," Penny Mordaunt said. 
"Aid Match is a chance for the British public to help directly to support people in desperate need. As well as our support through UK aid, the UK government will match pound for pound all public donations up to £2 million.
"Your help will make a genuine difference, ensuring that lifesaving aid reaches those in dire need in Indonesia right now."
The UK Government will match donations to the @DECappeal's Indonesia Tsunami Appeal, pound for pound, for the first £2 million of public donations https://t.co/RcJ5gbCCyw pic.twitter.com/Kkhx08L5ob

— DFID (@DFID_UK) October 5, 2018
ActionAid's Head of Humanitarian Response Mike Noyes was at the launch of the appeal with Secretary of State for International Development Penny Mourdant, and other members of the DEC.
"It's great to have our collective efforts supported by the Minister and the Department for International Development," he said.
"Thousands of people are in urgent need in Indonesia, so it's essential we come together and deliver aid as quickly as possible."
A 400-mile-an-hour #tsunami also kills slowly. After last week's disaster, 200,000 people are in desperate need of food, clean water and shelter. #bbcnewsten

Let's save the survivors. Please donate now: https://t.co/KtzQ21tnN9 pic.twitter.com/1iAeaXrw0x

— DEC (@decappeal) October 4, 2018
What is the DEC? 
The Disasters Emergency Committee (DEC) brings together 14 UK charities, including ActionAid, to coordinate efforts and jointly raise funds to respond to major emergencies. By coming together, we can raise more money to save lives and rebuild shattered communities.
DEC Chief Executive, Saleh Saeed, said:
"We are delighted that the next £2 million donated by the British public will be matched by the UK Government.
"We are deeply grateful for the generosity of people in the UK and we hope that this announcement will inspire even more people to give, knowing that whatever they donate will be matched pound for pound.
"The situation in Indonesia is truly desperate. People have now gone several days without food, many are still believed to be trapped under the rubble, and we have heard stories of children becoming separated from their families.
"DEC member charities are on the ground doing everything they can to help, but more funds are urgently needed to ensure we can reach as many people as possible."
ActionAid