COP26: The good, the bad and the ugly
19 November 2021
COP26 has ended but campaigning for climate justice is far from over. It's been all over the news but understanding what actually happened can be confusing. Here we break it down.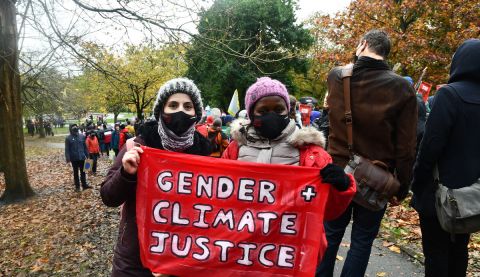 There's no pretending: COP26 wasn't a success, especially for those already being hit hardest by the climate crisis. But in among the bad news, there is hope. Let's start with the good news.
The good
World leaders made commitments that laid the foundations for greater ambition on financing and moving away from the use of fossil fuels. Politicians, companies and civil society came together on an unprecedented scale to tackle the climate crisis. Collaboration and cross-governmental cooperation are the only way we will achieve the transformational change that is needed – COP26 was just the beginning of this.
It was great to see that more than 100 world leaders promised to end and reverse deforestation by 2030. Countries that have signed the pledge cover nearly 85% of the world's forests – including Brazil, Indonesia, and the Democratic Republic of the Congo.
Women and girls from the frontlines of climate change also made their voices heard in the main halls of the conference, the side events and on the streets. Monicah, a climate change activist from Nanyuki, Kenya attended COP26:
"Going to COP26 was an amazing experience for me. It was great to see that I was just one of the many young activists at this year's conference. Despite it being difficult for many people to travel to Glasgow due to the travel restrictions and lack of access to vaccines, I was happy to see and hear from many women. Spaces were created for us to be heard and that was a good step forward."
Whether their voices were heard is another matter.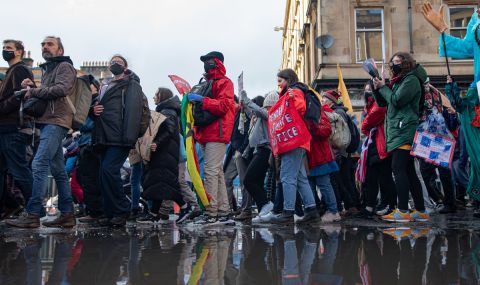 ActionAid projected EarthWalk – the marches of thousands of people unable to attend COP  – outside the COP26 conference centre in Glasgow.
Activists from all over the world like Monicah joined us in person with their calls for a just, fair and sustainable world. Over 100,000 people marched in Glasgow to demand more action on the climate crisis, and ActionAid was right there with them. 100 demonstrations took place across the UK while events were also organised in more than 100 countries including Kenya, Canada, Turkey, Brazil, Australia and France.
You can watch the recorded live stream below.
The bad
Countries' pledges to cut emissions won't limit global warming to below 1.5 degrees – a critical target that needs to be met.
In fact, according to Climate Action Tracker, the world is on track to hit 2.4C of warming despite the pledges made in the lead up to COP26. This will be catastrophic for the planet and everything that calls the Earth home. Those already marginalised, like women and girls, will be the ones most affected.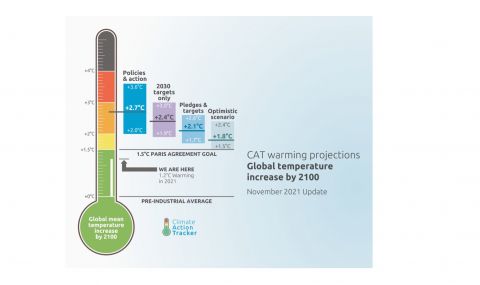 That's not the only bad news. The priorities of wealthier countries were allowed to dominate too. There were insufficient financial pledges for adaptation and a lack of real financial support for those already facing the irreversible impacts of climate change.
"Despite lots of talk about supporting the countries and communities that are living on the frontlines now, there was no firm commitment by nations to collectively provide funds for them and what is known as 'loss and damage'", says Monicah. "Until there is – climate justice remains far off. Those who have done the most to cause climate change need to provide more financial support for the losses and damages already experienced by those on the front line."
There needs to be more space created for women and girls to lead in key negotiating spaces, and many were unable to physically get to Glasgow to access the conference. This isn't new. A UN report earlier this year showed that although men made up just over half of delegates at climate talks, they spoke for 74% of the time, making their voices vastly overrepresented in negotiations.
We need to see more balance, so that women are not just heard but meaningfully participate in decision making when it comes to climate change."
"Although women were speaking up, we were still underrepresented at the conference – particularly women and girls from the Global South. Many of the leadership positions at COP26 were still held by men," says Monicah. "We need to see more balance, so that women are not just heard but meaningfully participate in decision making when it comes to climate change."
The ugly
India and China have been criticised for insisting on language to "phase down" rather than "phase out" coal use. But this is not just about coal. India called for all fossil fuels to be phased down equitably – meaning the greatest historical polluters must make the biggest adjustments.
Instead, the final COP26 text contains many loopholes allowing oil and gas fossil fuel extraction which countries like the US and UK rely on.
COP26 did not provide the commitments, actions, or financing we need to prevent climate change's catastrophic consequences. Thousands of us signed the petition to provide justice to the countries, communities and women and girls now facing climate change's worst impacts – but COP26 has not provided this.
Teresa Anderson, Climate Policy Coordinator at ActionAid International, said in response to the final COP26 outcome :
"This outcome is an insult to the millions of people whose lives are being torn apart by the climate crisis. There were huge expectations that COP26 would finally deliver real support for the communities, farmers, women and girls who need to recover and rebuild in the aftermath of climate disasters."
"Countries representing the vast majority of humanity pleaded for a new funding mechanism for loss and damage. But the wealthy countries most responsible for our warming world –  particularly the US  – have blocked their ears and hung those most impacted out to dry."
So, what now?
COP26 was not an end but a beginning. World leaders will return to the negotiating table next year to address the climate crisis and we've got work to do to make sure they listen.
"I still have hope," says Monicah. "The most inspiring part of COP26 for me was the opportunity to hear from women and girls around the world who are leading their communities in the fight against climate change, and time and time again coming up with innovative solutions."
"Next year's COP will be held in Africa and this will give an opportunity for us, African women to get a seat at the table. I will be there – advocating for climate justice for all – and I hope you will all be too, in spirit at least."
ActionAid Community Campaigners will be organising actions, events, and marches to make sure world leaders listen to the voices of women and girls most affected by the climate crisis.
Will you join our group of Community Campaigners to take action in your local area? This is going to take all of us. Find out more and sign up to become a community campaigner today.
Top banner: Global Day of Action for Climate Justice in Glasgow on 6 November. Credit: Daniel Jukes/ActionAid
Read next
7 March 2022

9 December 2021

25 November 2021