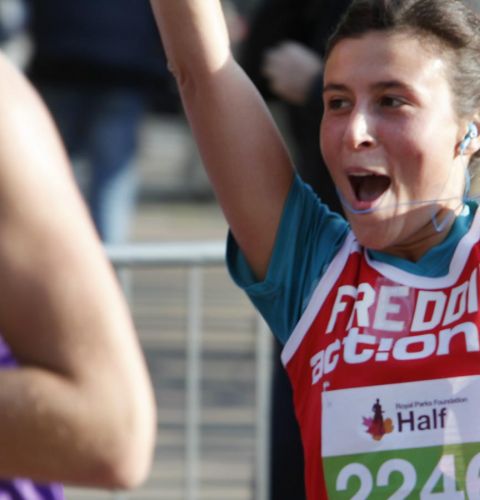 Royal Parks Half Marathon
Join ActionAid's team for one of London's favourite races
Date

10 October 2021

Location

London

Registration fee

£20

Sponsorship target

£350
The Royal Parks Half Marathon is quickly becoming London's favourite race for novice runners and seasoned pros alike. 
With a route that winds through four beautiful Royal Parks and past Buckingham Palace and Big Ben, this run gives you the opportunity to see London in all its glory.
And the fun doesn't stop at the finish line! We'll be there to celebrate your triumphant success with a host of delicious food stalls and live music in Hyde Park.
Charity places
To apply for one of ActionAid's charity places, just click the button below and complete our registration form. 
Ballot place
If you've got a Royal Parks Half Marathon place in the ballot, and would like to raise money for ActionAid, let us know by clicking the button below.

I've got a place in the ballot
Running really allows me to push myself, and - far more importantly - gives me the platform to highlight ActionAid's excellent work.

Daniel, ActionAid runner
Where your Royal Parks Half ActionAid sponsorship money goes
"Nearly all the girls I know now go to school", says 11-year-old Maua, from Tanzania.
Education makes a huge difference to girls' lives. Every extra year spent at school helps girls to develop the knowledge and skills they need for a safe and happy future. 
ActionAid works with communities in Tanzania to break down negative attitudes towards girls' education, and tackle barriers to education including the lack of female teachers and girls' toilets in schools. 
Maua says, "I know now that going to school is my basic right. It is not right for me to get married when I am too young. I want to finish school and then go on to college so I can start teaching others."
Get free materials and advice
We've got lots of useful training and fundraising goodies to help you with your event.
Pay in your sponsorship money
Thank you so much for your incredible support – you are changing lives, for good.

Contact us
If you have any questions or need support with your fundraising, please get in touch. Email events@actionaid.org or call 01460 238 000.
Page updated 18 February 2021