Food crisis in East Africa 2017-2020
What is happening in Somalia and Somaliland in 2019-2020?
In Somalia and Somaliland, 2.2 million people are at risk of hunger2  in 2019, after the driest seasons in three decades.
Communities in the region are struggling to recover from the 2017 drought which was extended by hot, dry weather conditions in 2018 and 2019. 
Prolonged dry conditions across the region have led to farmland and pastures failing, loss of livestock, increased food prices, and reduction of the availability of water in large areas of Somalia and Somaliland. 
A sharp increase in food insecurity has resulted in 5.4 million people without nutritious food, 2.2 million of which are now at risk of a food crisis3 . Children are suffering from severe malnutrition especially amongst the displaced populations. 
Pre-existing health, washing and shelter needs are worsening and the humanitarian needs of the region's internally displaced population is growing. Over 60,000 people have been displaced by drought since the beginning of 20194 .
Without a rapid intervention from the international community, ActionAid fears that the country could see a repeat of the famine that struck Somalia in 2010-2011 which killed over 250,000 people. 
ActionAid has received reports from our staff and partners of a possible outbreak of a cholera-like disease in some of the areas worst affected by the drought.
This reflects what is happening in other countries affected by the hunger crisis like Yemen and South Sudan. With people already weakened by hunger, their ability to survive disease outbreaks is lessened, contributing to the alarmingly high death toll reported.
What is happening in Kenya and Ethiopia in 2019-2020?
In Kenya, rains were delayed across the whole country leaving 2.3 million people in a food crisis in 2019. 
In Ethiopia, the eastern and southern-eastern areas are experiencing drought while other regions are affected by flooding. 8.8 million people are in need of assistance. 
What is ActionAid doing to help Somaliland, Kenya and Ethiopia in 2019-2020?
In 2019, around 850,000 people in Somaliland are in need of food assistance. So far ActionAid has provided 725 families with cash transfers. These cash transfers go directly to women and empower them to decide how best to prioritise their families' needs. Women spend these monthly cash transfers on food, water, shelter and medicine.
In Kenya, ActionAid is delivering urgently needed food by distributing 6,088 food parcels to the worst hit households and setting up a school feeding programme to provide a daily meal that can keep over 5,000 children in school. 
In Ethiopia, 1974 people including 1,160 women were provided with one-month cash transfers for food. 
In all the regions, ActionAid is also distributing sanitary kits and training women's coalitions in leadership skills to identify the needs of their community.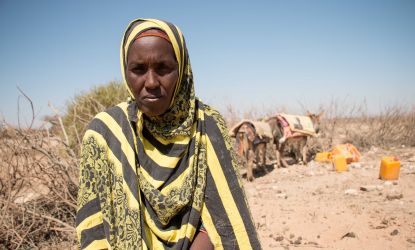 The impact of drought in Somaliland in 2017
Hoda Ahmed, 50, has five children, and lives in Somaliland. She suffered in the food crisis when her livestock started to die one by one.  
She says: "I had 100 sheep before the drought but they died slowly and now I have 30 sheep left. Every night for two months another one of my sheep died. I would wake up and find it dead. It is hard to explain how it feels. You take care of the animal, feed it and water it and take care of it. It is hard to explain. My family has lost all its income.
My children are weak. Most of the men are not with their families – everyone is separated. We do feel scared because we are women alone but we stay together, all the women and make sure that we all stay in a group, especially at night."
What happened in Somaliland, Kenya, Ethiopia and South Sudan in 2017?
In Somaliland, 6 million people were affected by the drought.
In Kenya, the drought left 2.7 million people in need of humanitarian assistance and in Ethiopia, 5.6 million people needed food aid. 
In South Sudan, a famine was officially declared in 2017 with 4.6 million people in urgent need of food. 
What did ActionAid do to help in Somaliland, Kenya, Ethiopia and South Sudan in 2017?
ActionAid supported 64,000 people in Somaliland, 130,000 people in Kenya, and 38,000 people in Ethiopia during the drought in 2017. 
This included providing cash transfers, rehabilitating water sources, and school feeding programmes. We also provided food, including cereals, pulses and oil, to malnourished children and lactating and pregnant women. 
ActionAid does not have a programme in South Sudan. To respond most effectively to the 2017 food crisis in East Africa, we used scarce and valuable resources by building on where we already had a presence and capacity such as in Ethiopia, Kenya, and Somaliland. Starting a programme in South Sudan would have demanded considerable time and money that could have been used to meet the immediate needs of communities that we already worked with.
However, by working with other agencies, for example, through our involvement in the Disasters Emergency Committee (DEC), we ensured that work across the region was coordinated and that other agencies were responding to needs in South Sudan. 
Updated: 4 September 2019
Footnotes
5https://reliefweb.int/report/somalia/somalia-2019-drought-impact-response-plan-dirp
6https://reliefweb.int/sites/reliefweb.int/files/resources/20190722_acaps_start_thematic_report_horn_of_africa_drought.pdf
2https://cerf.un.org/news/press-release/un-emergency-fund-allocates-us45-million-stave-famine-risk-horn-africa
3https://reliefweb.int/report/somalia/somalia-2019-drought-impact-response-plan-dirp
4https://reliefweb.int/report/somalia/somalia-2019-drought-impact-response-plan-dirp
Top image: Eunice (8) and half-sister Irene Onyango (5) in Kenya rely on ActionAid's Food for Assets Programme. Alice Oldenburg/ActionAid
Page updated 15 November 2021