Hurricane Matthew in Haiti 2016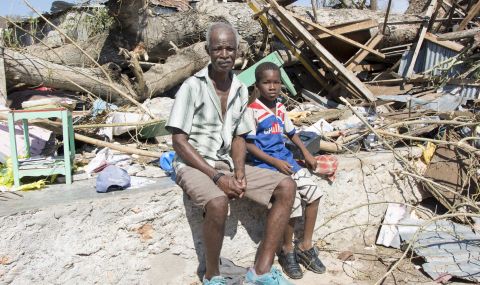 What was ActionAid's response to Hurricane Matthew?
ActionAid Haiti's response focused on the Grand'Anse department in the south west, because it is one of the worst affected areas, and because ActionAid has a strong local presence and existing partners in the region.
Within Grand'Anse we responded in five communes: Abricots, Beaumont, Bonbon, Jeremie, and Roseaux.
As always, our response was coordinated in terms of the immediate, medium and long term.
Immediate term response (Oct - Nov 2016):
Just hours after the hurricane on 5 October our team set out distributing initial response kits, and despite the challenging conditions, we were able to start distributing hygiene kits soon afterwards. For example:
We delivered first response kits to 2,804 households, supporting over 14,000 individuals with basic essentials.
We reduced the risk of cholera by giving 3,394 households cholera/hygiene kits, and 1066 households water cleaning tablets.
We also trained 3,997 people in hygiene awareness. 
Medium term response (Dec 2016 - Jan 2017):
In the medium-term, we focussed on empowering and protecting women and helping people earn an income again, through our Cash for Work schemes. For example:
We trained 603 community representatives in how to protect women (reaching up to 30,150 people) and constructed four Women Friendly Spaces
We gave out cash vouchers for agriculture (742 households), shelter (1,120 households) and women's commerce (1,000 women).
We provided cash for 10 days of work to 2,554 individuals, which rehabilitated 24km of roads and 54.18 hectares of farmland.
We trained 78 locally skilled builders to build back better, including 22 women.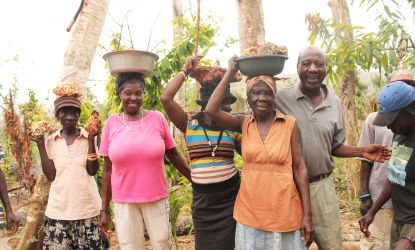 Women leading the Cash for Work scheme
ActionAid reached 1,244 people in the Grand'Anse region through our Cash for Work scheme. Each individual was paid for 10 days of work, as well as performing one day of 'community participation'.
The work consists mostly of road clearing and repair, but also can involve agriculture in the community. Workers are in teams of 13 including one 'chief', as well as one 'supervisor' for every 5 teams. 50% of the participants, and most of the team leaders, are women.
Long term response (Feb-April 2017):
In the long term, we continued to promote women's leadership, supported children, and helped communities to 'build back better'.
For example:
We trained 38 female entrepeneurs in management, marketing and how to make beauty and hygeine products.
We offered psychosocial support to 1,719 children, through our Child Friendly Spaces.
We gave solar lamps to 500 households, which are also torches and phone chargers.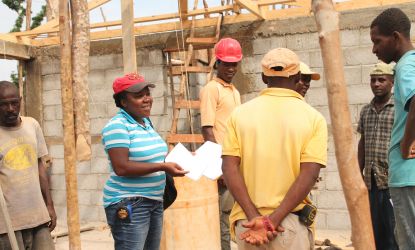 Engineer Ismene supervised building work and training
Ismene was employed by ActionAid to deliver women's protection training, and as a qualified engineer, she also supervised the building of our four Women Friendly Spaces.
"We ran the trainings in hired spaces – church halls, schools," she said, "but now after the Women's Friendly Spaces are built, women will have their own space to get together and learn."
How did our response promote women's leadership?
Women face additional challenges during a disaster. It is mostly women who are the caretakers of people in Haiti – the youngest, the eldest; they fetch water and do all the domestic chores. When a community is in crisis, this domestic burden on women increases. This entire burden falls onto their shoulders, and the turbulent context means that they are also vulnerable to increased sexual violence and exploitation.
That's why helping local women be at the forefront of our response is so important, making our response more effective, inclusive and sustainable.
Two months before the hurricane, ActionAid facilitated training of 30 women to become leaders in emergencies.
In the immediate aftermath, we identified additional strong women leaders who wanted to help, through our local partners.
We provided small wages to compensate women for their leadership work, giving recognition and value to their work.
Yolette Etienne, ActionAid Haiti Country Director said:
At every step of our response, women were promoted, valued, and taken into account."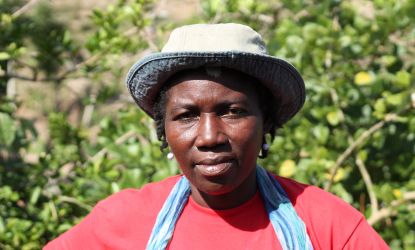 Team leader Elsa sheltered 40 people in her home
When Elsia's house was the only one left standing in her community on the night of Hurricane Matthew, she took in over 40 community members of all ages, giving them food, her clothes, even her bed.
She took part in many of ActionAid's response activities, including becoming a team leader of 13 men and women in our Cash for Work scheme.
She said: "I am the leader of this group of people working on the land, planting beans and corn. I, as a woman, am participating and leading this team. I have hope for my community, because with solidarity, support, training, awareness and working together, we can make a change.
"It's already changing. In particular, women are being given empowerment, being given commerce and livelihoods. The training doesn't just give us something tangible but also makes a positive change in your mind-set, on how you should be, what you deserve, how you should deal with problems. These are creating positive changes in the community. They are spreading hope and making everyone feel that they are not alone."
What are ActionAid's plans for future work in Grand'Anse?
ActionAid has a long standing relationship with communities in Grand'Anse and has worked alongside our local partner KPGA for almost 10 years. We will continue to maintain this strong presence in the area for the foreseeable future, transitioning out of the emergency response phase and into development and longer-term work.
We will work to reinforce our new partnerships, as well as our strong relationship with KPGA. We will also continue to support our sponsored children and communities that live in the hurricane-affected region.
ActionAid's strong focus on building local capacity – through training on women's protection, on hygiene, on accountability, and for builders and entrepreneurs – has embedded skills and knowledge in a very vulnerable community and hopefully built capacity to respond with more strength to future shocks.
The Women's Friendly Spaces we have constructed will be permanent community resources, facilitated by ActionAid and local partners to provide support for individual women and to bring groups of women together in the years to come.
Topimage: Women leaders from an ActionAid partner organisation in Haiti distribute emergency kits after Hurricane Matthew. ActionAid