Earthquakes in Nepal 2015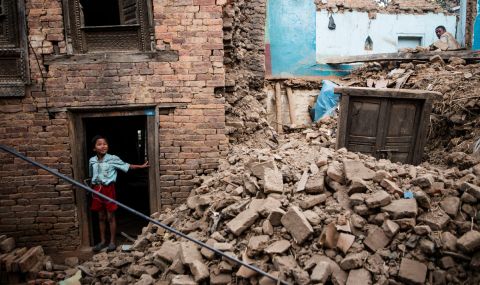 What was ActionAid's response to the Nepal earthquakes?
As of April 2018, three years since the earthquakes, ActionAid Nepal has reached more than 150,000 people across six counties – Kathmandu Valley, Sindupalchowk, Rasuwa, Kavre, Dolakha and Makwanpur – through our emergency response programme and ongoing community-led reconstruction programme.
Our existing relationships with local partners and communities meant we could respond quickly and reach some of the worst hit and hardest to reach areas up in the mountains.
This response was possible thanks to the generosity of many individual supporters, as well as the Disasters Emergency Committee (DEC), and the Alborada Trust.
Initial emergency response (Apr 2015 - Nov 2015)
When the earthquake struck, ActionAid Nepal immediately responded supporting more than 118,000 people affected by the disaster with immediate relief. For example:
We gave food support to over 18,500 families.
We provided emergency shelter to 7,000 families, until more permanent homes could be built.
We distributed over 7,000 dignity kits to women, containing essential items like underwear, soap and sanitary pads.
We set up 50 temporary learning centres and gave education kits to 9,580 children to help them keep learning.
We set up 23 women-friendly spaces – providing over 6,600 women with a safe place to get training, support, and discuss changes they want to see in their community.
We provided cash for work schemes to over 6,700 households.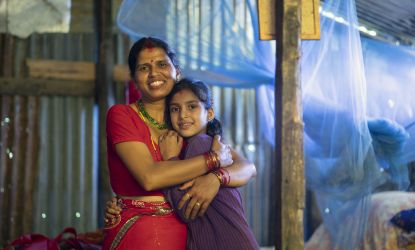 Helping families build safe temporary shelters
Laxmi's family's home was completely destroyed by the earthquakes, along with all her family's belongings. But with a toolkit and materials donated by ActionAid, they were able to build a safe temporary shelter.
In July 2015, mum-of-two Laxmi said: "It may not be a lot in terms of cash, but it has made a million dollars' worth of difference to us. What has helped us most has been the corrugated iron sheeting. Before we were staying under plastic tarps, and it was impossible to keep the rain out."
"We had seen the worst of life," she continued, "and we needed a place to have proper family time and feel secure again. The toolkit allowed us to put the pieces together and make that happen. It gave us hope."
Community-led recovery programme (Nov 2015 - Apr 2018)
Following our initial response, ActionAid focussed on offering training and support to help the most vulnerable people gain access to land to rebuild their homes, and gain the skills they need to set up small businesses and earn a living again. For example:
We are offering psychosocial care to support women suffering from domestic violence and other issues.
We have trained 89 women from affected communities in leadership development.
We have supported 592 people to set up or strengthen collective small businesses, such as poultry, cardamom and vegetable farming.
We have trained 149 people in micro-enterprise and business plan development.
We have provided vocational training to 402 women and other marginalised groups to help them earn a living.
Our long-term support ensures that communites are able to build back stronger for the future.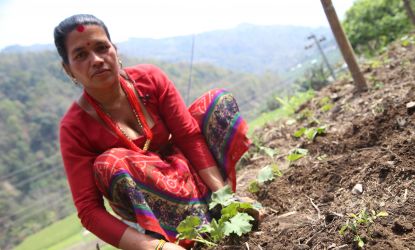 Helping women to earn an independent living
When the first earthquake struck on 25th April, Laxmi's house completely collapsed, as well as her shed, killing her buffalo and five goats. ActionAid supported Laxmi with metal sheets and other tools to build a temporary shelter, 15,000 rupees ($140), and training in how to set up a community mushroom farm.
Ten women came together and pooled the money they received for livelihood support to buy bamboo, mushroom seeds and equipment to set up their own farm. 
The farm is now providing all ten women with a sustainable income and giving them new found freedom.
Laxmi said: "We are earning very good money from this mushroom farming. We have already earned 70,000 rupees (£845). Women earning is a very good thing. After we work and earn, we can keep this money for our children. Before, we always needed to ask the men but these days we have our say and don't have to ask for money; that makes me very happy."
How did ActionAid's response promote women's leadership?
When a disaster strikes, women are the worst affected. In many countries women are not included in decisions that affect them, making it easy for women's specific needs to be neglected. That's why ActionAid uses emergencies as a key opportunity to promote women's leadership and challenge traditional power dynamics. As part of our response to the Nepal earthquakes we took the following actions: 
We supported women from affected areas to form distribution committees and lead the relief distributions – e.g. they collected all the information, coordinated and monitored our distributions. These same groups are now women's reconstruction committees and are very active in the recovery programme.
We ran workshops with women on leadership in the reconstruction work, equipping them to take a lead role.
We ran discussion groups with women to ensure their needs were incorporated into reconstruction plans for their villages.
By offering women a safe place to have discussions and enabling them to become leaders, we made sure that women are at the heart of rebuilding their communities. This means their needs will be met by the new plans for their villages, and that they develop skills and confidence to take a more active role in society going forward.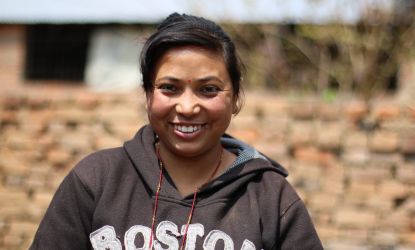 Women are becoming more economically independent
Kamala Kapali, from Khokana Kathmandu, began participating in the Women Friendly Space (WFS) supported by ActionAid shortly after the 2015 earthquake.
This has been an opportunity for her to build economic independence, and challenge the socially and culturally entrenched gender roles in her community.
"Prior to joining the WFS," says Kamala, "I used to think that we as women are obliged to stay home and only engage in the household chores; now I've realised women have every right to work outside the home as men do.
"We are equally capable of contributing for the income generation of our families and have the freedom to do so."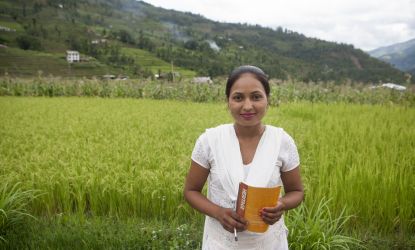 Mina is helping to rebuild her community
Mina Kumai Dahal, 24, is a volunteer coordinator of the rebuild of homes and schools in her village of Churetar in Sindupalchowk, central Nepal, following the 2015 quakes.
"I work with the community to find out what their needs and feelings are," explains Mina. "Then I work towards helping them."
Mina passionately believes that women, who are often silenced during key decision-making, should be heavily included in the rebuild effort.
"When women get involved in the rebuild it shows that they can be leaders. Until now women have not been active as leaders in this community. Women are mostly just involved in household affairs.
"However, there are a couple of women like me who are strongly involved in the rebuild. When other women see us they also want to become more involved. We are setting an example."
Top image: Malati, a women's rights coordinator for ActionAid Nepal, addresses local women in Panga after the 2015 earthquakes in Nepal. Srikanth Kolari/ActionAid