Food crisis in East Africa 2017-2023
Is there a famine in East Africa?
As of 2023, there is an extreme food crisis in several parts of East Africa.
Current levels of hunger and projections are not classified as "famine" under the internationally recognised system of measuring food insecurity.
However, some areas in Somalia are at risk of famine this year, if summer rains fail completely, and humanitarian food aid does not reach those most in need on time; while Kenya, Ethiopia and South Sudan are facing acute food insecurity. 
Famine is a technical classification that defines a catastrophic level of food insecurity that results in people dying from not having enough food to eat.
Acute food insecurity is defined when people are unable to eat enough food that puts their lives or livelihoods in immediate danger.1
These classifications are set by the Integrated Food Security Phase Classification (IPC) which measures food insecurity from a range of 'Level 1- minimal' to 'Level 5 - famine'. 
Find out more about how famine is classified and what causes it.
Hunger in East Africa 2022/23
Millions of people in Ethiopia, Kenya and Somaliland are facing hunger following the worst drought on record in East Africa and as a consequence of the Russia-Ukraine war.
Late rains, compounded by lack of wheat exports from Ukraine during the current war, is driving hunger in East Africa.  Over 40% of wheat used in Africa usually comes from Russia and Ukraine.2
Water sources across northeastern Kenya, southern and southeast Ethiopia and Somalia have also dried up or have not been restored, and communities are facing large water shortages.
Approximately 7 million children under the age of five are expected to be acutely malnourished in Ethiopia, Kenya and Somalia including more than 1.7 million with severe acute malnutrition.3  
What is happening in Ethiopia?
Little to no rain in recent months has decimated crops and livestock, leading to severe food and water shortages in the region. Covid-19 pandemic and local instability is also contributing to hunger. About 7.2 million people in Ethiopia are severely food insecure due to the drought.4
Following four consecutive failed rainy seasons since 2020, Ethiopia is now facing an extended La-Nina produced drought. Pastoral communities who rely on livestock farming are being affected the most. Children's malnutrition is worsening as food prices are rising due to the the war in Ukraine.
Malnutrition rates over the past year have risen by 64%, with an increase of 43% between January and April 2022.5
What is happening in Kenya?
No rainfall between the March and May 2022 rainy season has caused one of the worst droughts in Kenya in 40 years. 
4.1 million people in Kenya are severely food insecure because of the drought.6
Warm air temperatures and increased evaporation has affected livestock herds, crops, water availability, and livelihoods.
Severe water shortages and significant vegetation loss have led to 3 million livestock deaths in both Kenya and Ethiopia.7  
What is happening in Somaliland in?
Somalia and Somaliland are facing a severe drought following four poor rainy seasons and a locust invasion.
Women and girls who rely on farming for their livelihoods are being hardest hit and have to walk long distances to find water for their families and herds.
People are also being forced to leave their homes and move to different areas to find food and shelter. Displaced people are also seeking refuge in camps.
In Somalia, food insecurity and malnutrition are worsening. 7.1 million people now face crisis-level food insecurity and over 200,000 people are facing hunger and starvation.8
What is ActionAid doing to help Ethiopia, Kenya and Somaliland?
In Ethiopia, ActionAid is supporting 60,000 people with food and cash support in Tigray, Amhara and Afar. We are also setting up safe spaces to support 2,000 survivors of gender-based violence and protection services, including psychosocial counselling, medical and legal support.
In Kenya, ActionAid has supported 93,330 people so far. We are providing cash transfers, water and providing food to the most vulnerable families and meals for school children.
In Somaliland, more than 27,998 households have received life-saving cash assistance in Togdheer, Sanaag and Sool regions in the past couple of months.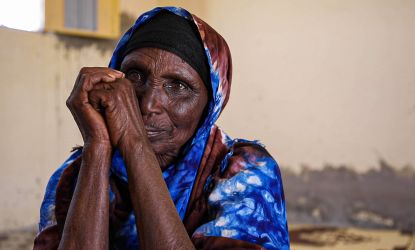 Hunger in Somaliland
Amina, 90, has survived 12 droughts in her lifetime, but says the current situation in Somaliland, is the worst she's experienced.
Amina has seen first hand the devastation caused by the drought in her hometown.
"The drought has hit us hard. We have no water. Fuel is very expensive. We used to eat sorghum, rice, pasta and macaroni. But now we do not have the money to buy these foods. We are starving," she said.
Families are only able to access one working well once every seven days. Some resort to digging holes with their bare hands in search of water, but more often than not, they find dirty, muddy water.
Like Amina, millions of others in East Africa are struggling with a food crisis that is affecting their food and water supplies. Now rising food and energy prices are pushing families to the brink of survival.
You can help us reach people like Amina. ActionAid is working with local women and partner organisations in East Africa to provide food, water, and help rebuild livelihoods.
Updated: 4 September 2019
Where is East Africa located? 
Previous food crises in East Africa: 2019-2020
What happened in Somalia and Somaliland?
In Somalia and Somaliland, 2.2 million people were at risk of hunger2  in 2019, after the driest seasons in three decades.
Communities in the region were struggling to recover from the 2017 drought which was extended by hot, dry weather conditions in 2018 and 2019. 
Prolonged dry conditions across the region led to farmland and pastures failing, loss of livestock, increased food prices, and reduction of the availability of water in large areas of Somalia and Somaliland. 
What happened in Kenya and Ethiopia?
In Kenya, rains were delayed across the whole country leaving 2.3 million people in a food crisis in 2019. 
In Ethiopia, the eastern and southern-eastern areas were experiencing drought while other regions are affected by flooding. 8.8 million people are in need of assistance. 
What did ActionAid do to help Somaliland, Kenya and Ethiopia?
In 2019, around 850,000 people in Somaliland were in need of food assistance. ActionAid provided 725 families with cash transfers. These cash transfers went directly to women to empower them to decide how best to prioritise their families' needs. Women spend these monthly cash transfers on food, water, shelter and medicine.
In Kenya, ActionAid delivered urgently needed food by distributing 6,088 food parcels to the worst hit households and setting up a school feeding programme to provide a daily meal to keep over 5,000 children in school. 
In Ethiopia, 1974 people including 1,160 women were provided with one-month cash transfers for food. 
In all the regions, ActionAid also distributed sanitary kits and trained women's coalitions in leadership skills to identify the needs of their community.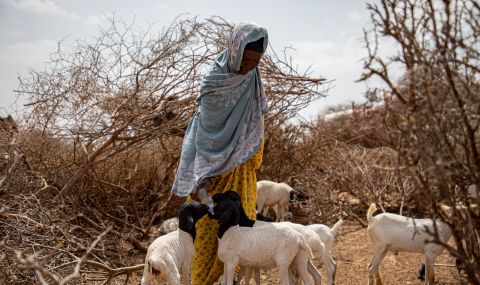 Previous food crises in East Africa: 2017
What happened in Somaliland, Kenya, Ethiopia and South Sudan?
In Somaliland, 6 million people were affected by the drought.
In Kenya, the drought left 2.7 million people in need of humanitarian assistance and in Ethiopia, 5.6 million people needed food aid. 
In South Sudan, a famine was officially declared in 2017 with 4.6 million people in urgent need of food. 
What did ActionAid do to help in Somaliland, Kenya, Ethiopia and South Sudan?
ActionAid supported 64,000 people in Somaliland, 130,000 people in Kenya, and 38,000 people in Ethiopia during the drought in 2017. 
This included providing cash transfers, rehabilitating water sources, and school feeding programmes. We also provided food, including cereals, pulses and oil, to malnourished children and lactating and pregnant women. 
ActionAid does not have a programme in South Sudan. To respond most effectively to the 2017 food crisis in East Africa, we used scarce and valuable resources by building on where we already had a presence and capacity such as in Ethiopia, Kenya, and Somaliland. Starting a programme in South Sudan would have demanded considerable time and money that could have been used to meet the immediate needs of communities that we already worked with.
However, by working with other agencies, for example, through our involvement in the Disasters Emergency Committee (DEC), we ensured that work across the region was coordinated and that other agencies were responding to needs in South Sudan. 
Food crises: key facts
What causes food crises?
Food crises are caused by various complex factors including climate-induced changes and disasters such as conflicts in a particular region over time.
These events can cause extended droughts or other climate-related events like cyclones and floods. Erratic changes in the weather like lack or rain or extreme rainfall can result in crop failures and loss of livestock. This in turn can raise food prices and can cause road blockages, hindering transport of food. 
Where is East Africa located?
East Africa is situated in the northeastern part of the African continent. From Tanzania in the south, through Kenya and Uganda and across Ethiopia is all part of East Africa.
Which are East African countries?
East Africa is part of sub-Saharan Africa comprising two regions:
Kenya, Tanzania, and Uganda;
The Horn of Africa, which encompasses Somalia, Somaliland, Djibouti, Eritrea, and Ethiopia.
Footnotes
1https://www.fao.org/newsroom/detail/global-report-on-food-crises-acute-food-insecurity-hits-new-highs/en#:~:text=Acute%20food%20insecurity%20is%20when,IPC)%20and%20the%20Cadre%20Harmonis%C3%A9.
2https://www.bbc.co.uk/news/world-africa-61685383
3https://reliefweb.int/report/ethiopia/eastern-africa-region-regional-food-security-nutrition-update-2022-first-quarter-may
4https://docs.wfp.org/api/documents/WFP-0000138974/download/
5https://www.savethechildren.net/news/child-malnutrition-rates-soar-eastern-ethiopia-once-lifetime-drought-strikes
6https://reliefweb.int/report/ethiopia/horn-africa-drought-humanitarian-update-10-june-2022
7https://docs.wfp.org/api/documents/WFP-0000138970/download/
8https://docs.wfp.org/api/documents/WFP-0000138974/download/
2https://cerf.un.org/news/press-release/un-emergency-fund-allocates-us45-million-stave-famine-risk-horn-africa
Top image: Saafi i(left) and her daughter are living in a camp for displaced people as they had to leave their home when water ran out. Jenna Farineau/ActionAid
Page updated 8 August 2023