Reusable sanitary pads and sustainability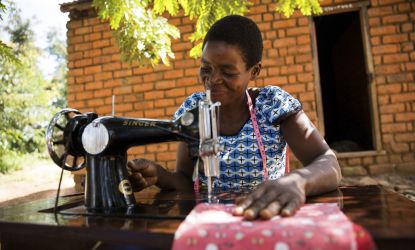 Ruth's story: sewing reusable sanitary pads to boost income
Ruth, from Malawi, is one of the local women taking part in an ActionAid project to create eco-friendly, reusable cloth pads.
ActionAid provided her with a sewing machine and training on how to use and look after it. Ruth sews several fabric sanitary pads a day on her machine and sells them in the local market for a small sum. As part of this project, local women have made 3,000 pads to date. 
Ruth has been able to supplement her income and make a difference to school girls who receive these pads as part of a distribution project set up by ActionAid.
She firmly believes if you educate a girl child you educate a whole village.
Reusable sanitary pads and education
School girls in Malawi often have to wear a thick, unabsorbent cloth called Nyanda which chafes their skin, stains their clothes, and is noticeable due to its bulk.
This makes the young girls vulnerable to bullying and creates shame and stigma around the natural process of menstruation. Due to the discomfort and the teasing, some girls end up skipping several days of school. 
For example, one in 10 girls in Africa miss school because they don't have access to sanitary products, or because there aren't safe, private toilets to use at school.2
As part of an ActionAid project in Malawi schools, students now receive reusable sanitary pads and can practise safe menstrual health.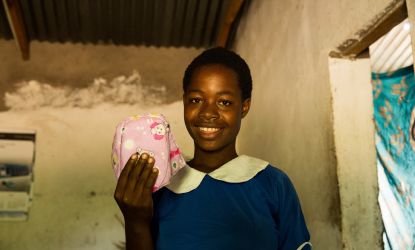 How eco-friendly sanitary pads improve access to education
"The boys could see the cloth and they laugh at me, so I go home to escape the bullying," says 16-year-old Aida, from Malawi, who wants to be a nurse when she is older. 
"Because it's so hot here, the cloth would get very dry and stiff, and it would chafe and burn my skin."
Although Aida has big hopes for her future, the teasing became too much to bear. And with nowhere to clean or change her Nyanda in private, she began to skip school altogether.
Irritation from the cloth and bullying from other children means girls like Aida often miss school for days at a time. The more school they miss, the more likely they are to drop out – and lose out on their education altogether.
ActionAid is providing training in how to make fabric pads, and distributing reusable pads as part of a project in the Chiradzulu District in Malawi. 
With these softer, reusable and washable pads, girls like Aida are able to stay in school and create a future for themselves.
Menstrual cups and other sustainable period products
ActionAid works closely with women, girls and people who menstruate to help them access a range of products that help them manage their periods with dignity - and sustainably.
We have set up a project in Malawi that distributes menstrual cups to those who cannot afford menstrual products. 
Menstrual cups are made of silicone and last 10 years, leaving very little waste. They are also safe and easy-to-use, as they can be sterilised using boiling water.
Our work increases choice and access to menstrual products, and we put local people's voices front-and-centre when determining which products are most useful for their communities.
However, we know these solutions don't work for everyone. From our discussions with the women and girls we work with, we know that menstrual cups are not understood or not considered culturally appropriate in some of the predominantly rural communities we work with.
Menstrual cups need to be inserted into the body and are regarded with suspicion for this reason. It is also possible that this solution could lead to cultural stigma, stress and further complications, for example if a woman or girl has been subject to FGM.
Watch a BBC short film by Gloria Achieng about ActionAid's menstrual cup project in Malawi.
Exploring all options for menstrual health 
Although ActionAid is piloting projects to assess sustainable options that help women make reusable pads, or support girls in using menstrual cups, we know that these options are not suitable for all those we work with.
For example, in conflict zones and during humanitarian crises where there is an immediate need, and where there are no safe washing facilities, we understand that reusable sanitary pads and menstrual cups are not an effective option. 
So, while we explore several sustainable options as an alternative to the store-bought sanitary pad, we still need your help to support refugees in places like Jordan, Greece, East Africa and Bangladesh with sanitary pads.
Top image: Ruth in Malawi received a sewing machine to make reusable sanitary pads for her local community. Samantha Reinders/ActionAid
Page updated 26 July 2023