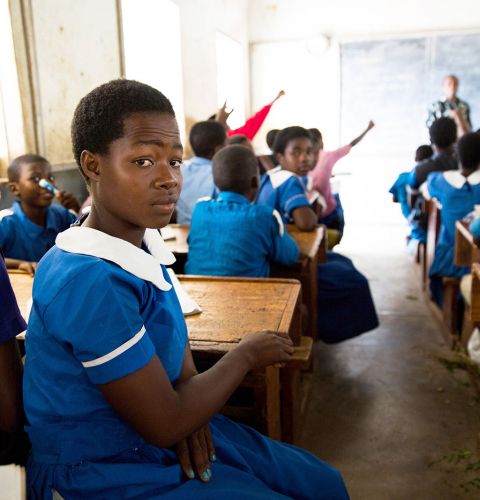 Periods - all your questions answered
Periods and menstrual hygiene are a key part of life and sexual and reproductive health. But they can be challenging for women, girls and people who menstruate around the world.
During and because of menstruation, many have to bear the potential harm to their health from lack of access to menstrual products. 
They may have to deal with secrecy, taboos and discriminatory practices against them. And most importantly, many suffer the short and long-term effects on their education, working ability and participation in life's activities. 
This is why periods and menstrual health are an important focus for ActionAid. We work closely with women, girls and people who menstruate to ensure all can enjoy their full sexual and reproductive rights. 
Our supporters ask us important questions about our approach and how we work to help people manage their periods with dignity.
Read on for a list of frequently asked questions and answers about periods and our work.
Periods
Periods - period poverty
Periods - humanitarian emergencies
Periods - shame and stigma
Periods - sustainability and the environment
Share this
Footnotes
1Menstruation and the menstrual cycle fact sheet". Office of Women's Health. 23 December 2014. Archived from the original on 26 June 2015. Retrieved 25 June 2015.
2https://www.bloodygoodperiod.com/#
3https://www.bbc.co.uk/news/magazine-36398973?ocid=socialflow_facebook&ns_mchannel=social&ns_campaign=bbcnews&ns_source=facebook&fbclid=IwAR1hCgSqqB9sFYPnKNCM4g1wvJdoB8dqVQsLhisFeFNccd6EezdyoNoqlTY
4https://www.npr.org/sections/goatsandsoda/2016/05/10/476741805/what-kenya-can-teach-the-u-s-about-menstrual-pads?t=15555141741
5https://www.unicef.org/media/files/UNICEF-Child-Marriage-Brochure-low-Single(1).pdf
6https://www.who.int/en/news-room/fact-sheets/detail/adolescent-pregnancy
7https://insights.careinternational.org.uk/media/k2/attachments/CARE_Child-marriage-in-emergencies_2015.pdf
8https://www.girlsnotbrides.org/themes/education/
9https://rewire.news/article/2008/03/25/in-africa-menstruation-can-be-a-curse/
10https://friendsoftheearth.uk/plastics/plastic-periods-menstrual-products-and-plastic-pollution
Top image: Aida, 16, at her school in Malawi, which is part of a reusable sanitary towel project. Samantha Reinders/ActionAid