1 in 10
One in 10 girls in Africa miss school because they don't have access to menstrual products, or because there aren't safe, private toilets to use at school.1
50%
In Kenya alone, approximately 50 percent of school-age girls do not have access to menstrual products.2
12%
In India, approximately 12 percent of its 355 million menstruating women cannot afford menstrual products.3
What is period poverty?
Period poverty is a global issue affecting those who don't have access to the safe, hygienic menstrual products they need, and/or who are unable to manage their periods with dignity, sometimes due to community stigma and sanction.
It doesn't just refer to those who have no access to menstrual products; in some cases, limited access to these products leads to prolonged use of the same tampons or pads, which can cause infection.4
Around the world, consequences of period poverty can include:
Girls often miss one or more days of school during their periods, which negatively impacts their education. In Sub-Saharan Africa, for example, some girls will miss as much as 20% of their school year; some may drop out of school altogether.5 The loss of education can mean girls are more likely to be forced into child marriage.
There are serious health risks when people are forced to use dirty rags which can cause infection. Risks can be greater if the women or girl has undergone female genital mutilation (FGM).6
Due to community stigma, some may feel persistent shame and fear during their periods,7 and in some cases face social sanctions (such as chhaupadi in Nepal).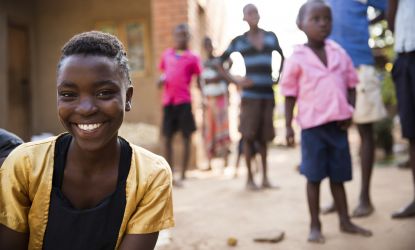 How ending period poverty changes lives
17-year-old Vast lives in the Chiradzulu District in Malawi, where ActionAid has been working to end period poverty and ensure no girl misses school because of her period. 
When she started her period she faced not just period poverty, but stigma from her community: "I was told not to cook with salt because if I do my dad will have stomach pains, and people's teeth will fall out." She used to miss out on around three days of school every month. 
Thanks to a project providing training on how to make reusable sanitary pads, a lot has changed for Vast. 
"These pads make a huge difference. I'm really happy now," she said. 
I am able to stand in class without being conscious of what is behind me and can even play netball. I'm really happy and it helps a lot."
How ActionAid tackles period poverty
In many of the world's poorest countries, we provide training on how to make reusable sanitary pads, which are affordable and sustainable.
We support girls' clubs where girls learn about their bodies, menstruation and health, build confidence and come together to advocate for their rights. We also support girls' rooms in schools, which provide a safe, private space and access to products, helping girls manage their periods freely and without shame.  
In humanitarian crises, we distribute kits containing menstrual products, soap and clean underwear, so women, girls and people who menstruate can manage their periods safely and with dignity.
And we're working with local communities to end the practice of chhaupadi - a period-shaming tradition in Nepal - for good. 
Where can I donate sanitary pads?
We often receive generous offers from our supporters to donate surplus menstrual products to the communities we work in around the world.
ActionAid always tries to source menstrual products as locally as possible - sourcing goods in this way helps us to cut down on costs, while ensuring the items we provide are appropriate for the local environment and culture in the countries where we work. 
This not only supports the local and national economy but also facilitates a more efficient response, as it means we don't have to depend on regional postal systems.
For this reason, although we are very grateful for these kind offers, we are unable to accept donations of menstrual products in the UK. We would recommend products of this kind be donated your local food bank or a specialist organisation like the Hygiene Bank.
If you'd like to support our work ending period poverty in rural and urban communities across Africa, Asia and Latin America, please donate today.  
Footnotes
1http://unesdoc.unesco.org/images/0022/002267/226792e.pdf
2https://unesdoc.unesco.org/ark:/48223/pf0000226792
3http://www.cehat.org/go/uploads/Hhr/migrants.pdf
4https://unesdoc.unesco.org/ark:/48223/pf0000226792
5http://blogs.worldbank.org/education/globally-periods-are-causing-girls-be-absent-school
6https://unesdoc.unesco.org/ark:/48223/pf0000226792
7https://unesdoc.unesco.org/ark:/48223/pf0000226792
Top image: Esnart, Sylvia and Vast have been supported by an ActionAid programme to help end period poverty. Samantha Reinders/ActionAid. Others: Poulomi Basu/ActionAid; Karin Schermbrucker/ActionAid; Anna Pantelia/ActionAid
Page updated 27 January 2023