Survivors' stories: life after being attacked with acid
2 October 2017
Acid attacks disproportionately affect women. Sonali, NurunNahar and Jasmen have all been attacked with acid – a traumatising experience leaving them with severe physical and emotional scars. They have not let their suffering silence them though. Through support from the Acid Survivors' Network set up by ActionAid Bangladesh, they have helped one another integrate back into society and speak out.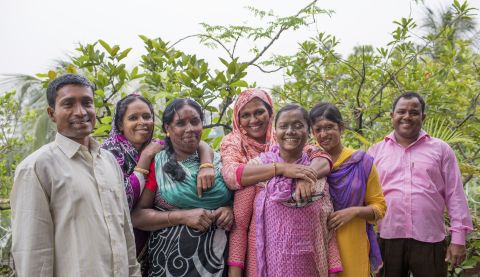 Next week these three inspiring women are taking their campaigning to the next level – coming to London for the first time with five other survivors to front a fashion show with a difference, Survivors' Runway, to raise awareness of acid attacks and all forms of violence against women and girls.
Read their stories to help stand #WithWomenSurvivors of violence.
Sonali has been scarred since birth
On 29 November 2002, Sonali – then just 17 days old – was sleeping between her parents, Nur and Khodaja, when an intruder entered the bedroom and threw acid on all three of them. Sonali's father believes the reason for the attack was a land dispute, but the perpetrator was never brought to justice. The scarring caused Sonali's soft, newborn skull to change shape.
Children used to be afraid of me.
Years later, Sonali is just now gaining the confidence to say that acid attack survivors are as valuable as any other human being. She has lots of good friends, enjoys reading and looks forward to drama class at school every Thursday. But some of her peers have been cruel about her scars.
She remembers: "Children used to be afraid of me. I never wanted to go to school. No one came to play with me. They stared at me. They whispered and laughed. I felt low."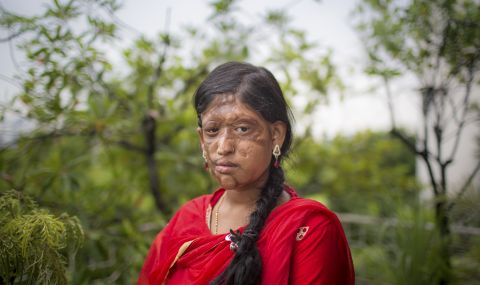 Sonali has been engaged with ActionAid's work since an early age and believes it has helped her to stay in education. ActionAid Bangladesh visited her school to talk with children and teachers. "They told them not to be afraid of me, and described the situation. It really helped," says Sonali.
Now I have so many best friends.
"Now I have so many best friends," she says, like her friend Nargis. "We play together, go to school together."
When asked how being part of the Acid Survivors' Network has changed her life, Sonali says: "I learned to mix with people. I learned to have a fixed aim and I've been exposed to more experiences. I got the opportunity to study through ActionAid. Many of my friends have not had a chance like this."
NurunNahar was attacked by her ex-husband
NurunNahar, 35, survived having acid thrown on her by her ex-husband in 1995. He had married again. When NurunNahar refused to go to his home with his new wife, he approached her at night, while she was walking to her village toilet, and threw the acid on her. His parting words to her were: "Your father will never get you married again."
I saw just darkness.
NurunNahar recalls of the immediate aftermath. "I saw just darkness." She had to walk one kilometre to get to a doctor for treatment. She was then in hospital for two months.
When she finally removed the bandages from her face and saw her reflection, she felt she had "no reason to live".
"I couldn't participate in any social occasions. People stared at me. They used to keep asking questions. They wanted to know all the details," she says.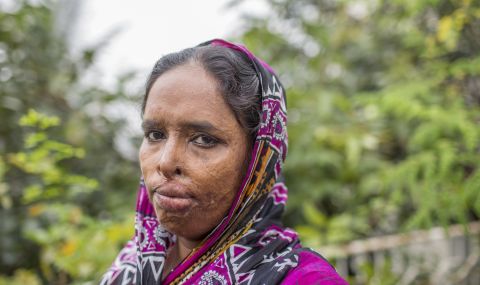 Then she got support from ActionAid's Acid Survivors' Network, who helped her to earn her own income.
Sometimes, tears stream down my eyes.
Twenty-two years later, the physical scars remain. NurunNahar can't open her mouth properly, or go outside in the sun. "Sometimes, tears stream down my eyes," she says. But she has overcome many of the social problems the acid attack brought. Her life is filled with relationships. Despite her ex-husband's threats, she remarried and is a mother.
NurunNahar is excited about coming to London for Survivors' Runway. She says: "I could never imagine that I would ever go to such a place."
Jasmen
Jasmen, 30, endured an acid attack at 16. Her attacker worked in her dad's shop. He was nine years her senior; she used to call him "uncle".
No one accepted me.
Jasmen said he attacked her because he had intended to marry her. She explains that he believed if she suffered an acid attack, this would make her vulnerable - and her family would then ask him to marry her.
That evening, Jasmen had fallen asleep after studying for her exams. "He just came beside my window and threw acid on my face," she remembers. "I thought someone threw hot water on my face, as it was burning." Jasmen and her family only realised that acid had been used when they were on their way to hospital.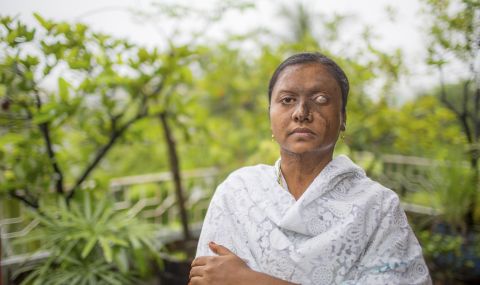 "After the attack life became really difficult for me," Jasmen explains. "No one accepted me. I was not able to get back to my normal life. Everyone criticised me.
I started to feel normal again.
People insulted her. They said that she must have been "a bad girl" or that she was "the wrong type of girl" to have been the target of the attack.
She felt so low that she couldn't sit for her school leaving exams. Jasmen's attacker served 12 years of his prison sentence - but then got out on bail. Jasmen finally began to receive much-needed support when she met other acid attack survivors at a local ActionAid meeting.
She received counselling and began rebuilding her life. She says: "I started to feel normal again". Jasmen went on to marry and have a daughter. She attended university, earning a Masters' degree in political science. She hopes to secure a job "and become an independent woman, so that I can secure my daughter's life."
Read next
3 August 2022

18 March 2021