Climate change and flooding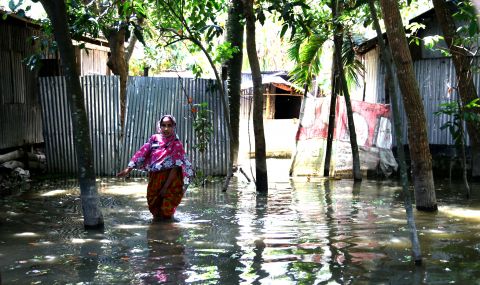 How is climate change connected to flooding?
As climate change warms up the atmosphere, the air can hold 7% more water vapour for every one-degree Celsius rise in temperature. When this air rapidly cools, water vapour turns into droplets which join together to form heavy rainfall4 .
Heavy rainfall over a short period of time can cause flash floods or moderate rainfall over several days can overflow rivers or dams.
Countries that have been dealing with high water levels for many years have had the time to adapt – for example, the Netherlands which has created the world's most sophisticated flood barriers.
But historically regions that haven't had to deal with such heavy rains may not have adapted, making them more vulnerable to dangerous flooding.
Low-income countries with poor infrastructures may be less equipped to prepare for and prevent floodings such as Bangladesh, Haiti and Vietnam.
Increasing temperatures are also melting polar ice caps which pose significant threats to coastal towns and cities.
Antarctica has lost about 3 trillion tonnes of ice in the last 25 years causing global seas to rise by 8mm. In the future sea levels could rise as much as 5 meters5 .
How does flooding affect women and girls?
Climate change disproportionately affects women and girls because it exacerbates inequalities that women and girls already face.
Women and girls are more likely to live in poverty than men and face more discrimination and violence that can heighten during crisis or periods of instability. 
Women and girls are particularly vulnerable to a climate-change-related event like flooding in the following ways.
When disasters like flooding strike, women and children are more likely to die from drowning than men due to lack of resources, communication and in some instances, women are less likely to be able to swim than men.6  Up to four times as many women as men died in the tsunami of 2004. In Indonesia, an average of 77% of the fatalities were women.7
Flooding can result in displacement and migration. Women and girls may have to leave their homes and move into displacement camps while the men move away to look for work. Women also experience difficulty living in camps as they have specific needs around managing periods without access to toilets and running water.8
Violence against women and girls (VAWG) including domestic violence tends to increase during disasters as existing social structures are weakened or destroyed. Women also tend to take on new roles in the aftermath of a crisis such as having to fetch water over larger distances putting them at additional risk.9 .
Risk of early and forced marriages is high in the aftermath of climate-change-related disasters, as families face income and livelihood stresses and further poverty.
Girls are forced to drop out of school as unpaid care and domestic responsibilities at home may increase.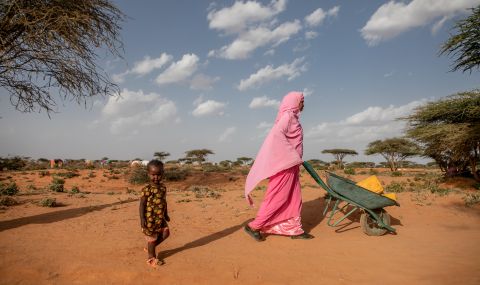 Why doesn't drought end when it rains heavily?
It is common for areas that experience drought to also be susceptible to intense rains and flooding. 
For example, Somalia and parts of Somaliland can experience heavy rain, but they have also experienced more periodic droughts. These droughts have occurred due to shorter rainy seasons and sporadic and unpredictable rainfall.  
Recurrent droughts dry out soils and land. But intense rain over dry land does not necessarily mean less drought.
Heavy, intense rainfall tends to run off the surface of soil, washing away any nutrients on the top instead of gently soaking it. Cracked, arid land caused by drought is also unable to soak up the moisture fast enough.
Even if a heavy rain breaks a drought it is usually for short periods of time, and a return to irregular rain patterns means water in the soil is used up or evaporates quickly again. To grow crops and sustain livestock, farmers and communities need a steady, regular pattern of rainfall that gently soaks the land. 
The unpredictability of the weather makes it more and more difficult for vulnerable communities to plan ahead and adapt to changes in the weather.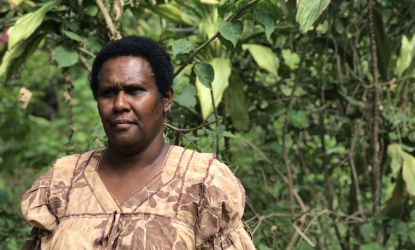 Empowering women: Leiwia's story
48-year-old Leiwia lives in the small pacific island of Erromango in Vanuatu which is already prone to cyclones and flooding.
It is now one of the countries most vulnerable to the impact of global warming. 

The impacts of rising sea levels, flooding and cyclones in the country have the potential to affect the local women's livelihoods and food security.

Leiwia heard about ActionAid's women safe spaces in 2015.
Established as a part of ActionAid's response to Cyclone Pam, "Women I Tok Tok Tugetha (WITTT)" forum gave women an opportunity to share their experiences, voice their concerns, discuss access to resources, and influence decision-making in their communities to better respond to climate change. 

Leiwia believes that these forums can be an avenue for change and provide a space for the voices of women in her community, and around Vanuatu.
A lot of disasters are coming, and the climate changes. If we come together, mobilise together, talk about those issues… WITTT can help Erromango."
What does ActionAid do when floods strike communities?
Women and girls are not merely survivors of climate-change-related crises, they are forging ahead and leading change. ActionAid is working closely with them to give them a chance of a climate-positive future. 
With local authorities and other partners, ActionAid trains women and girls in disaster risk reduction by helping them to spot early warning signs and facilitating communication with their communities to ensure efficient and timely evacuations and support.
ActionAid trains people to develop more climate-resilient agricultural techniques. In countries where flooding is common, ActionAid works with women to develop modes of agriculture that are more adaptable to or can withstand flooding's effects. For example, planting adapted crops that are tolerant of wet conditions such as saline-resistant rice in Bangladesh.
ActionAid also works with women to reduce the impact of floods. For example, we help women in Cambodia plant mangroves to provide flood protection by reducing the force of oncoming waves and storm surges. 
ActionAid works with women to develop alternative livelihoods and income sources during and after times of crisis or long-term changes. 
During immediate emergencies, ActionAid provides relief by cash transfers or food, water purification tablets, hygiene kits, building shelters and toilets and supporting women at risk of violence.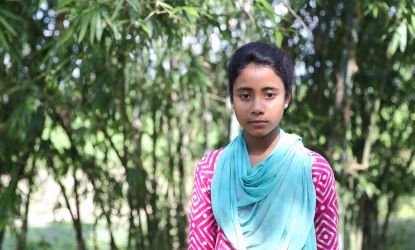 Flooding in Bangladesh: Sathi's story
Slowly our house was going under water. And one night the water increased and it went above my head."
14-year-old Sathi's life turned upside down when her house in Kurigram, Bangladesh flooded and she and her family had to move to a camp for displaced people.
She lost her books and all her belongings in the floods and living in the camps meant fearing for her life. 
"The life [in the camp] is very difficult. We cannot go to the toilet, we cannot take a bath... At night I cannot sleep. There was no door. Just a plastic sheet was above our heads. My mother never slept. She was worried for me and my sister. "
Displacement caused by floods and other climate-change-related events can expose women and girls to violence.
Camps may not have adequate sanitation facilities or lighting so women and girls feel unsafe making their way to campsite or offsite toilets.
ActionAid works to develop long-term, sustainable solutions so families can become more resilient to the changing climate but also provides food, water, survival kits and safe toilets so that they can survive the climate change affecting their lives right now.
Footnotes
1http://un-spider.org/risks-and-disasters/natural-hazards/flood
2https://public.wmo.int/en/our-mandate/water/floods
3https://www.carbonbrief.org/how-much-flooding-is-in-the-uks-future-a-look-at-the-ipcc-repor
4https://www.bbc.co.uk/news/science-environment-50407508
5https://www.independent.co.uk/environment/climate-change-sea-levels-melt-ice-rise-threat-antarctica-a8111351.html
6https://deeply.thenewhumanitarian.org/womenandgirls/articles/2016/07/12/why-teaching-women-to-swim-helps-children-too
7https://www.theguardian.com/society/2005/mar/26/internationalaidanddevelopment.indianoceantsunamidecember2004
8https://www.acclimatise.uk.com/2017/09/19/floods-spearhead-disaster-related-displacement-worldwide/
9https://assets.publishing.service.gov.uk/government/uploads/system/uploads/attachment_data/file/271932/VAWG-humanitarian-emergencies.pdf
Top image: Adori, 13, has to cross floodwater to attend school in her village in Bangladesh. Fabeha Monir /ActionAid