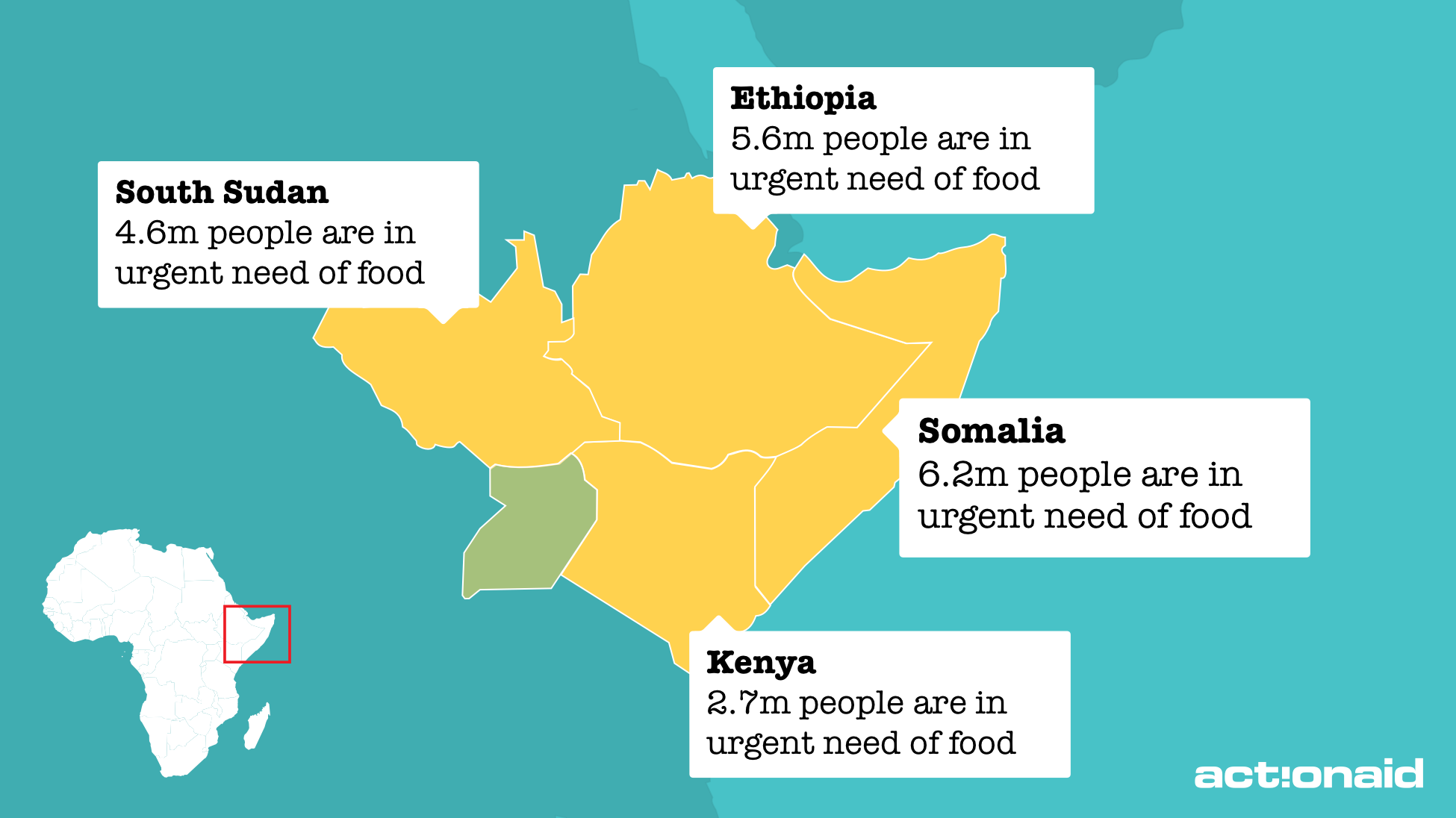 What is happening in Somalia and Somaliland?
In Somalia — where ActionAid works in the region of Somaliland – 6.2 million people urgently need humanitarian aid. 363,000 children are malnourished, and 1.1 million people are internally displaced.
The situation is desperate. Without a rapid intervention from the international community, ActionAid fears that the country could see a repeat of the famine that struck Somalia in 2010-2011 which killed over 250,000 people.
ActionAid has received alarming reports from our staff and partners of a possible outbreak of a cholera-like disease in some of the areas worst affected by the drought. This is backed up by the Somaliland Ministry of Health who report that there have been 365 deaths and 10,277 cases of Acute Watery Diarrhoea (AWD)/cholera in Somaliland since the drought began.
This reflects what is happening in other countries affected by the hunger crisis like Yemen and South Sudan. With people already weakened by hunger, their ability to survive disease outbreaks is lessened, contributing to the alarmingly high death toll reported.

What is ActionAid doing to help in Somaliland?
As of the end of July 2017, ActionAid in Somaliland has supported 64,000 people. This includes distributing 6,000 tonnes of food, which includes rice, sugar, wheat flour and cooking oil, and thousands of litres of water.
We are also supporting women in communities to lead aid distributions and monitor aid effectiveness.
What is happening in Kenya?
Drought in Kenya has left 2.7 million people in need of humanitarian assistance.
The Government of Kenya declared the drought a national disaster in February 2017, and made an appeal for national and international support.
What is ActionAid doing to help in Kenya?
ActionAid has supported approximately 130,000 people in Kenya to date.
This includes providing cash transfers, rehabilitating water sources, and school feeding programmes. We are also providing food, including cereals, pulses and oil, to malnourished children and lactating and pregnant women.
What is happening in Ethiopia?
In Ethiopia 5.6 million people urgently need food aid. 300,000 people have been displaced, and 228,000 children have been forced to drop out of school because of the drought.
What is ActionAid doing to help in Ethiopia?
In Ethiopia, ActionAid has supported over 38,000 people as of July 2017. ActionAid's Women's Development Manager in Ethiopia, Eleni Tekalegne, said: "Mothers and children face increasingly poor conditions as drought grips several parts of south and south eastern Ethiopia. We must act now to help protect women and children who are suffering hunger."
What is happening in South Sudan?
In South Sudan, a famine has been officially declared in Unity State. Famine is when lack of access to food has become so severe that people are dying as a consequence of not having enough to eat. 4.6 million people are in urgent need of food.
What is ActionAid doing to help in South Sudan?
ActionAid does not have a programme in South Sudan. To respond most effectively to the current food crisis in East Africa, we believe we can best use scarce and valuable resources by building on where we have an existing presence and capacity in Ethiopia, Kenya, and Somaliland. Starting a programme in South Sudan now would demand considerable time and money that could be used to meet the immediate needs of communities that we already work with.
However, by working with other agencies, for example through our involvement in the Disasters Emergency Committee (DEC), we are ensuring that work across the region is coordinated and that other agencies are responding to needs in South Sudan.
How many people are affected by the crisis in total?
The number of people affected by the food crisis in Africa in depends on how many countries are included in the figure. The UN estimates that 20 million people are in need of humanitarian assistance in Yemen, South Sudan, Somalia and Nigeria.
In East Africa, the Disasters Emergency Committee, which ActionAid is a member of, estimates that 16 million people are in need of humanitarian assistance across South Sudan, Somalia, Kenya and Ethiopia.
Different agencies may also use slightly different numbers when describing the scale of the crisis according to whether they are referring to people facing famine, food shortage or in need of humanitarian aid.
The impact of drought in Somaliland
Hoda Ahmed, 50, has five children, and lives in Somaliland.
She says: "I had 100 sheep before the drought but they died slowly and now I have 30 sheep left. Every night for two months another one of my sheep died. I would wake up and find it dead. It is hard to explain how it feels. You take care of the animal, feed it and water it and take care of it. It is hard to explain. My family has lost all its income.
My children are weak. Most of the men are not with their families – everyone is separated. We do feel scared because we are women alone but we stay together, all the women and make sure that we all stay in a group, especially at night."
You may also be interested in…
Donate to our East Africa Crisis appeal to help women and children in Somalia, Ethiopia and Kenya.
Help us reach families with urgent supplies
What causes famine and food crises, and which countries are most affected?
Learn more about famine
Read our blogs and get the latest updates about the East Africa crisis.
Get updates on our work in East Africa