Are women disproportionately vulnerable to HIV?
Deep-rooted gender inequality makes women and girls disproportionately vulnerable to being infected with HIV. It also undermines efforts to prevent AIDS.
In sub-Saharan Africa, young women (15-24 years) account for 75 per cent of HIV infections and are approximately three times more likely to be infected than young men of the same age.6
Studies from Rwanda, Tanzania, and South Africa show up to three fold increases in risk of HIV among women who have experienced violence compared to those who have not.7
Five key links between HIV and violence against women and girls
The World Health Organisation identifies five key links between the two, showing how violence against women and girls, particularly domestic violence by intimate partners, is both a cause and a consequence of HIV infection.
Inability to negotiate condom use: domestic violence from intimate partners exacerbates unequal power in sexual relationships making it difficult for women and girls to negotiate condom use to protect themselves from HIV infection.
Violence as a consequence of being HIV positive: domestic violence or fear of violence in intimate partner relationships can prevent women seeking HIV testing and revealing their HIV status. This limits their access to vital services such as antiretroviral treatment (ART), prevention of mother-to-child transmission, and psychosocial support.
Relationships with older men: child marriage - the practice of young girls being married to much older men - increases the risk of infection, because older men have a higher prevalence of HIV. The age gap also amplifies the unequal power dynamic, increasing the likelihood of numbers one and two.
Direct transmission through sexual violence: the greater the trauma, vaginal lacerations, and abrasions, caused by the level of force used by the perpetrator, the greater the risk of HIV transmission.
Sexual risk taking: studies show that women's experience of violence is linked to them having multiple partners, partnerships outside marriage and engaging in transactional sex, all of which increase the risk of getting HIV.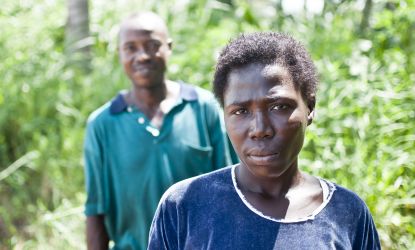 Reducing the stigma around HIV
Constance, 32, lives in Coast Province, South Eastern Kenya. She is HIV positive and a mother of two sons.
Constance used to experience stigma from her community, but since joining the Kuluhiro (hope) support group, supported by ActionAid, things have changed. All 48 members (41 are women) have access to antiretroviral treatment, and earn an income from a group farm project.
Constance says: "One of the things, I really like about this project is, that it has changed the way people look at me in the village."
"They see me carry vegetables to my family. Before, most people ignored me. Now they are curious to know more about me and why I'm so healthy. So besides helping me to survive, this project has also given me respect in my community.
"The project has made me a stronger woman in two ways. I am healthier because I get enough food and take my medicine. And I no longer feel ashamed because I have HIV."
HIV and child-headed households
High prevalence of HIV/AIDS causes a huge increase in child-headed households - houses where a child under 18, usually the eldest, has become the head of the household. This is mostly because both parents have died, often due to conflict or disease.
The eldest children often have to drop out of school and find a way to earn money. This makes young girls even more vulnerable to sexual violence.
In Kenya, Homa Bay County has the highest rate of HIV/AIDS in the country, with an HIV prevalence rate of over 25%.
In some areas of Nyarongi, where ActionAid works, whole generations have been wiped out by HIV/AIDS, leaving young girls heading up families with no means to support them.
The local sugar factory attracts thousands of male workers from across the country. Girls, many of whom are child heads of households, are lured into sex by older boys and men in exchange for items like school uniforms, sanitary towels, food, or the promise of 'a better life'.
This puts girls at risk of HIV infection, showing again how violence against women and girls is both a cause and a consequence of HIV.
How ActionAid supports women affected by HIV
Through supporting local women's groups ActionAid provides vital information, including how to prevent infection, how to get tested, how to get treatment and how to prevent mother-to-baby transmission.
We provide psychosocial support to help women cope with the stigma of living with HIV, and help change negative attitudes in communities.
Through our skills training and group projects we empower women to earn their own income, helping them afford antiretroviral treatment, and support their children.
All of our work to end violence against women and girls – such as helping stop child marriage and ensuring perpetrators are held to account – also helps reduce the risk of women and girls being infected.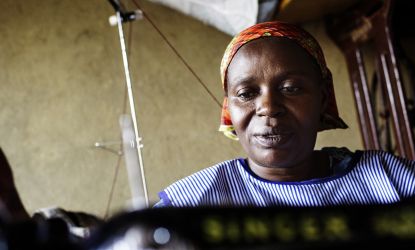 Supporting women widowed by AIDS
Nabitalo Fatuma lives in Makere, a community in the slums of Kampala, Uganda, with a high prevalence of poverty and HIV.

When Nabitalo Fatuma's husband died of AIDS, she was left in a critical condition, being HIV positive herself. Like many other women, Fatuma's only caretaker was her husband, so when he passed away she did not have money for school fees, food or clothes for her nine children.
Luckily, volunteers in her area heard of her situation and encouraged her to go to Makerere Women's Development Association (MAWDA), supported by ActionAid.
She says: "I'm so happy that the volunteers in the community found me and told me about MAWDA and ActionAid."
She went to psychosocial therapy and counselling meetings, and ActionAid started sponsoring the youngest of her children, helping both her family and her wider community.
Top image: Marie, around 60 years old, adopted all five of her brother's children after he and his wife died of AIDS, West Pokot, Kenya. Kate Holt/ActionAid
Page updated 31 January 2023