The Gauravi One-Stop Crisis Centre
The Gauravi Centre's response to the coronavirus pandemic
In the midst of the coronavirus pandemic, which is bringing about a surge in domestic violence, the work of Gauravi Centre is more important than ever.
Staff are working hard to support women and girls who are at increased risk of violence; they are also delivering vital food and hygiene supplies to vulnerable people across their community.
Staff are distributing up to 7,000 food packets for families in need each day.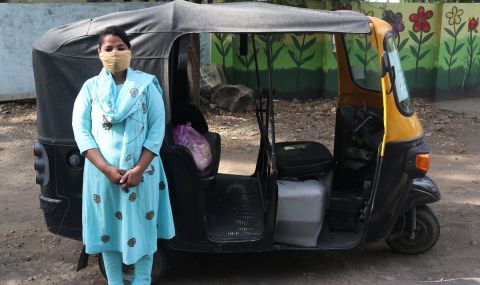 Why is this kind of centre necessary?
A women or girl reports a rape every 15 minutes in India.1  
Due to deeply held cultural beliefs in some communities, women and girls can feel pressured to stay silent about their attacks, or even feel as if they themselves are to blame. They may not have the financial means to leave their partner, or access legal services, meaning many cases of abuse go unreported.
But the Gauravi Centre offers the full range of services for survivors of violence - all under one roof. Many of the staff members at Gauravi are survivors of violence themselves. They often form strong bonds with the women and girls who access the services, keeping in touch for years to come, and providing sensitive, comprehensive care that helps survivors recover from trauma.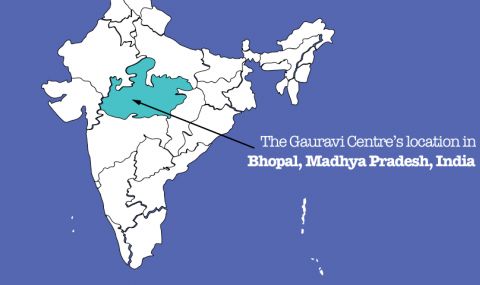 What about stopping the violence before it happens?
The Gauravi Centre doesn't just provide aftercare for survivors of violence. 
It also runs outreach work in the wider community, in order to break down stigmas and change attitudes. This includes holding talks in schools and colleges where participants find out how to report abuse and what their rights are. 
Centre workers also train police officers to ensure cases are dealt with promptly and sensitively. They work with lawyers to ensure surivors get justice and perpetrators are held to account. Together, this sends a powerful message to community members about the rights of women and girls - and begins to break the cycle of violence.
They also run programmes to help women become financially independent, including a scheme to train women to become auto-rickshaw (tuk-tuk) and bus drivers - a profession that is usually seen as male-only. And they support families to get government funding to continue girls' education, so that girls can grow up with a better knowledge of their rights.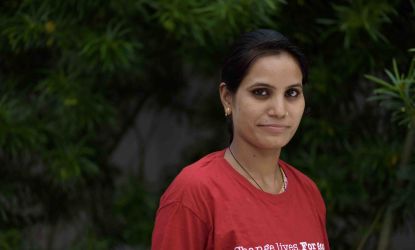 How survivors of violence now work to support others
Rani is a survivor of domestic violence - she was physically abused by her husband for six years. While pregnant with her second child, he attacked her and left her deaf in one ear.
She came to the Gauravi Centre for help, and received medical treatment, legal help and counselling. 
Now, Rani works at the centre. She takes as many as 100 calls a day from women experiencing violence, and supports them when they come into the centre.
"When there is a woman who enters the centre depressed, and returns happy, that brings me a lot of happiness," Rani says. 
It brings me happiness to bring happiness into other women's lives."

More centres across the country would help more women to be empowered, help more women to get rid of fears and would be able to raise their voices against the violence."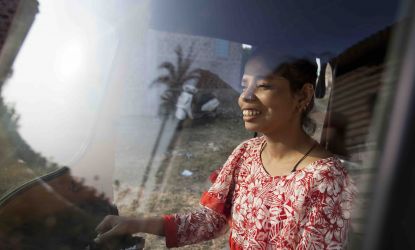 How women are learning new skills to build a livelihood
Talat, 26, is a survivor of domestic violence who has been trained at the centre to become a tuk-tuk driver. 
She plans to use it to transport people to and from the centre, and teach other women to drive. She says:
Each time I used to see auto drivers on roads, I used to think, 'why is it just men driving autos?'

So, when this opportunity came to me to learn how to drive, I chose it because I wanted to learn something different and be a woman auto driver.

When I first went behind the wheel, I was a little under-confident, but once I started to get trained and started to drive I gained the confidence and today, I can drive my auto confidently. And I feel really happy about it."
Talat is also using her tuk-tuk to deliver food parcels to vulnerable people who are at risk of hunger due to the coronavirus crisis, including survivors of violence, transgender people, homeless people, members of poor Muslim minority groups and migrant labourers.
Footnotes
1Based on 38,947 reported rapes in 2016. Source: 2016 India National Crime Record Bureau, p.xix
Rani works at a crisis centre in Bhopal, India, giving support to survivors of violence over the phone. Abbie Trayler Smith/ActionAid
Page updated 17 November 2021