Where does aid go and why?
UK aid is required by law to be spent on supporting the poorest people and countries in the world. ActionAid works with the Foreign, Commonwealth and Development Office (FCDO), made up of the former Foreign and Commonwealth Office and the Department for International Development (DFID), in countries such as Kenya, Zimbabwe, Bangladesh, Myanmar, Malawi and Ethiopia. 
About a third of the UK aid budget is spent through international organisations like the United Nations and World Health Organisation, which tackle poverty and respond to humanitarian disasters like earthquakes or famine. 
Aid is also disbursed through other global development-focused organisations like the World Bank. 
What is foreign aid used for?
There are different types of foreign aid ranging from short term, emergency support during times of crisis to long-term aid which supports activities to promote human rights, gender equality, education and economic development. 
Aid is vital because hundreds of millions of people around the world still live in extreme poverty and are unable to realise their rights. Many of them face huge challenges including limited access to basic services like healthcare and education, food shortages, disease, disasters and conflict. 
Women and girls are often the most marginalised. Because of societal norms, all over the world women and girls have less social, economic and political power, which often leads to their human rights being denied or abused.
Every year millions of girls miss out on school, are forced into early marriage or have to survive on the bare minimum. This can leave them trapped in a cycle of poverty and unable to claim their rights. 
Humanitarian aid saves lives
UK aid saves lives when humanitarian disaster strikes. From the earthquakes which devastated Nepal in 2015, to Ebola in Sierra Leone and Liberia in the same year, the hunger crisis in East Africa in 2017 and the Indonesian tsunami in 2018, the UK has provided life-saving aid and helped the world's poorest people. 
  
In East Africa, where drought pushed millions of people to hunger in 2017, UK aid provided life-saving food and water. In Somalia UK aid provided up to 1 million people with emergency food assistance, over 600,000 starving children and pregnant and breastfeeding women with nutritional help and 1 million people with safe drinking water7 . 
  
The 2015 Nepal earthquakes claimed more than 8,000 lives and destroyed over 600,000 homes. Communities were in crisis. ActionAid, with the support of UK aid, helped to provide emergency food, shelter and the means to begin rebuilding including tools and materials8 .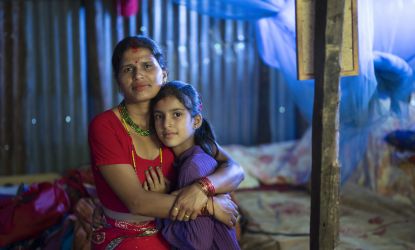 Rebuilding homes and lives in Nepal
Laxmi, 35, and her nine-year-old daughter Kanchan stand inside their temporary shelter, in Rasuwa District. Their home and all their belongings were destroyed in the earthquakes that struck Nepal in April 2015, which killed over 8,000 people. 
Thanks to a  toolkit and materials donated by ActionAid, Laxmi's family were able to build a safe temporary shelter. Laxmi said: 
It may not be a lot in terms of cash, but it has made a million dollars' worth of difference to us. What has helped us most has been the corrugated iron sheeting. Before we were staying under plastic tarps, and it was impossible to keep the rain out. We had seen the worst of life and we needed a place to have proper family time and feel secure again. The toolkit allowed us to put the pieces together and make that happen. It gave us hope."
Aid supports long-term change
International aid provides long-term support to help people overcome poverty. It helps improve access to healthcare and education and challenges structural issues which drive poverty, like inequality (including gender inequality), corruption and corporate tax dodging. 
  
From the start of 2015 until the end of 201812 , UK aid immunised an estimated 74.3 million children, saving 1.4 million lives. 
UK aid has also supported 62.6 million people to gain access to clean water and/or better sanitation between 2015 and 2020.
This vital work not only saves lives but helps people to live fulfilling lives in full exercise of their rights in the long run. 
Aid goes a lot further than meeting basic needs. It helps tackle entrenched inequality and empowers people to claim their rights.   
  
From 2015 to 2020, UK aid has reached over 25 million women and girls with modern methods of family planning per year, giving them greater choice over how to run their lives.
In Afghanistan, it has helped millions of young girls go to school. Education is fundamental to creating opportunity, especially for girls who are so often pushed to the margins of society, taking on large amounts of unpaid care and domestic work, forced to marry or shut out of all but the most basic jobs. With education, girls have better chances of making their own choices about how to live their lives. 
Does foreign aid work?
Aid spending is incredibly effective. 
Millions more children in the world's poorest countries are alive today because aid supported their parents, provided medical care and immunised them against deadly diseases. People forced from their homes by disaster or war have been provided with food, water, medicine and shelter thanks to aid. 
DfID, which oversaw our efforts to combat global poverty until September 2020, was a true world leader which delivered life-changing work in support of the poorest and most marginalised people in the world. Publish What You Fund rated it as "very good" (the highest category) in their Aid Transparency Index.13   
Britain's role in supporting some of the poorest people in the world means that we should be proud of its role at the forefront of international development. 
We hope the FCDO will build upon the strong foundations laid by DfID since it was established in 1997, ensuring that UK aid is spent effectively and reaches those most in need, particularly women and girls.  
Footnotes
1https://www.worldbank.org/en/topic/poverty/overview
2https://www.bond.org.uk/news/2020/04/stats-on-international-development-how-uk-aid-was-spent-in-2019
3https://www.gov.uk/government/publications/spring-budget-2017-documents/spring-budget-2017
4http://www.unhcr.org/afr/news/latest/2016/6/5763b65a4/global-forced-displacement-hits-record-high.html
5https://www.actionaid.org.uk/our-work/emergencies-disasters-humanitarian-response/east-africa-crisis-facts-and-figures
6http://uis.unesco.org/en/topic/out-school-children-and-youth
7https://www.gov.uk/government/news/uk-outlines-new-humanitarian-support-and-urges-international-community-to-save-lives-before-its-too-late
8https://www.actionaid.org.uk/our-work/emergencies-disasters-humanitarian-response/earthquakes-in-nepal-2015
9https://www.gov.uk/government/news/uk-to-double-donations-to-new-appeal-justine-greening-announces-on-anniversary-of-nepal-earthquakes
10https://www.gov.uk/government/news/uk-to-double-donations-to-new-appeal-justine-greening-announces-on-anniversary-of-nepal-earthquakes
11https://www.gov.uk/government/news/uk-to-double-donations-to-new-appeal-justine-greening-announces-on-anniversary-of-nepal-earthquakes
12https://assets.publishing.service.gov.uk/government/uploads/system/uploads/attachment_data/file/927493/dfid-results-estimates-sector--report-2015-2020-update-16oct20.pdf
13https://www.publishwhatyoufund.org/
Top image: Woman leader Luijah directs an ActionAid food distribution for people suffering from drought in Kenya. Alice Oldenburg/ActionAid
Page updated 26 February 2021