Climate change and poverty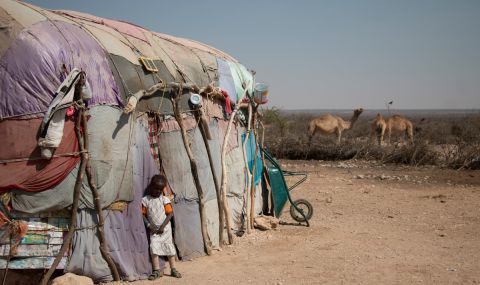 The relationship between climate change and poverty
Despite historically being the least likely to contribute to rising CO2 emissions, people living in poverty are often the worst affected.3
Meanwhile, many of the world's richest and highest-polluting countries are feeling the impact of climate change the least.2  
Richer countries tend to have the resources and networks to adapt to the changing climate, and more resilient infrastructure (such as water systems and housing) to cope with erratic weather events and disasters. 
While poorer countries almost always have fewer resources and weaker infrastructure, making them more vulnerable to the effects of climate change.   
Climate change and agriculture
Families for whom resources are already scarce are facing a worsening battle against poverty every day.  
And for those who rely on farming for income and food, the effects are particularly stark. Poor land management policy and unsustainable development is causing the degradation of land, including soil erosion and desertification, which is speeding up negative effects of climate change. And higher temperatures, changing rainfall patterns and increased water scarcity are making vast regions of land unsuitable for food production.4
Over 1.3 billion people, mostly in developing countries, are currently trapped on degrading agricultural land, increasing their vulnerability to slow-onset disasters such as drought, desertification, food insecurity and even famine.5
And in the future, climate change threatens to wreak havoc on many more lives. It is estimated that up to 600 million more people in Africa could face malnutrition as agricultural systems break down due to climate change impacts. An additional 1.8 billion people could face water shortages, especially in Asia.6
How climate change deepens inequality
Climate change is not just shining a light on the world's inequalities; it is often deepening those inequalities themselves.  
When disasters strike, it is those with less power and fewer resources who invariably suffer the most. But they also exacerbate poverty, because those most affected by drought or floods must sell their land or livestock at low prices, effectively transferring assets from the poor to the wealthy.7  
70%
70% of the world's poor depend on natural resources for all or part of their livelihoods8
600m
An estimated 600 million more people in Africa could face malnutrition as agricultural systems break down due to climate change impacts.9
1.8b
An additional 1.8 billion people could face water shortages, especially in Asia.10
ActionAid's work supporting people affected by climate change
ActionAid is working with communities across the world to develop solutions that help people adapt to the impacts of climate change, respond to disasters, and build resilience to climate change related extreme weather patterns.
This includes:
Training women and children on how to prepare for cyclones and protect lives and livelihoods
Supporting farmers with climate-resilient crop seeds and farming methods
Supporting the building of flood-resilient villages.
We're also supporting the specific needs of women and girls affected by climate change.
At times of crisis, marginalised people are forced into negative coping mechanisms to survive. For example, girls can be forced to drop out of school or to be married earlier, as their families are no longer able to afford to house or feed them.
That's why we work with grassroots women's networks to empower women and girls to stay in school, get the education they deserve and claim their rights.
Across the world, we're also working with local partners to pressure governments around the world to take more radical action on climate change. We know that, to prevent the worst effects of climate change, governments, donors, climate and humanitarian agencies must work together and take urgent action.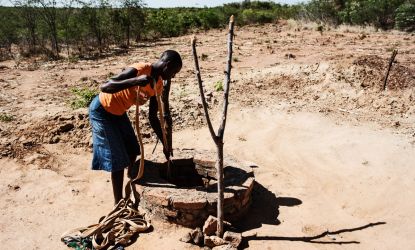 Extreme weather and poverty
In 2016 the world faced one of the worst El Niño weather events of all time. It also recorded the highest ever level of greenhouse gases in the atmosphere,11  intensifying the effects of El Niño. 
The extreme weather and drought has contributed towards one of the most daunting food crises in living memory in Zimbabwe, destroying crops and killing livestock. ActionAid provided life-saving relief and supported women to take on leadership roles.  
Geannie, left, owned a small plot of land and a well, but the well had dried out. She joined an ActionAid-supported local women's group, in order to have a greater say in how the disaster was dealt with.  
"That is why I want to become a governor," she told us.
I want to be someone who does not forget about the people and what we need."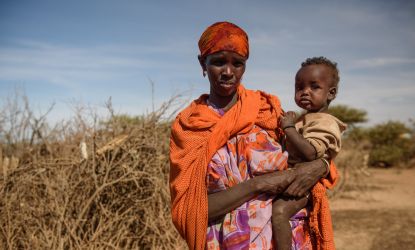 Sustainable ways to beat drought
Malyuun was affected by the devastating drought in Somaliland in 2016.  She told us that, most nights, she had to listen to her children cry themselves to sleep from hunger.  
She lost 15 sheep due to the drought, and was barely managing to survive with five remaining sheep and two cows.
She couldn't afford to take her children to the clinic, despite their frequent illnesses.  
ActionAid worked with communities in Somaliland to deliver emergency, live-saving aid. We also developed sustainable solutions to the drought, including building wells and concrete water tanks to supply livestock. And we delivered small loans through local women's groups that enabled women to rebuild their lives and develop sustainable sources of income.  
Footnotes
1https://news.un.org/en/story/2019/06/10412611
34 H Singh. Solving the climate crisis means tackling global inequality (2015) [Online]. Available: http://news.trust.org/item/20150525141853-ld051/. [Accessed 29 August 2018].
2https://news.un.org/en/story/2019/06/1041261
4https://www.un.org/development/desa/dspd/wp-content/uploads/sites/22/2018/05/9.pdf
5https://www.un.org/development/desa/dspd/wp-content/uploads/sites/22/2018/05/9.pdf
6https://www.undp.org/content/undp/en/home/librarypage/poverty-reduction/mainstreaming-environment-and-climate-for-poverty-reduction-and-.html
7https://policy-practice.oxfam.org.uk/publications/el-nino-the-case-for-urgent-action-583920
8https://www.un.org/development/desa/dspd/wp-content/uploads/sites/22/2018/05/9.pdf
9https://www.undp.org/content/undp/en/home/librarypage/poverty-reduction/mainstreaming-environment-and-climate-for-poverty-reduction-and-.html
10https://www.undp.org/content/undp/en/home/librarypage/poverty-reduction/mainstreaming-environment-and-climate-for-poverty-reduction-and-.html
11https://actionaid.org/publications/2016/hotter-planet-humanitarian-crisis
Top image: Romla is from Somaliland, where climate change has driven devastating droughts and caused her family to lose their livestock. Jennifer Huxta/ActionAid
Page updated 17 November 2021